"
Dallas, you're fired! Pack up your stuff and get outta my face!
"
"World Records & Work Wreckers" is the tenth episode in Season 1 of Austin & Ally. It first aired on March 4, 2012 to 3.06 million viewers.[1]
Overview
Ally accidentally hires her crush, Dallas, to work at Sonic Boom. When he turns out to be a horrible employee, Ally hesitates to fire him, fearing it might ruin her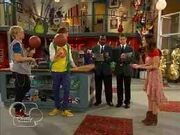 chances of him liking her. Meanwhile, Austin and Dez compete to see who can spin a basketball on their finger the longest, granting them a spot in a world record book.
Cast
Main Cast
Recurring Cast
Memorable Quotes
Ally
Am I dreaming, or are you guys reading... a book?
Austin
It's the book of world records! Me and Dez are gonna set a world record!
Dez
How 'bout the world's longest fingernails?
Austin
Nah, how could we ever go bowling? Oh, here's one! Keeping your eyes open without blinking!
Dez
Oooh! Time me!
Trish
Hey!
Austin
Shhhh, Dez is trying to set the record for not blinking! Nobody bother him for 30 hours and 12 minutes.
Dez
I can't go on. I give up! How long was that?
Austin

8 seconds.
Trish
You should go talk to him.
Ally
It's not that easy.
Dez

Sure it is!
(in high pitched voice)
Hey Dallas!
Dallas
Really? You'd mow my lawn for me?
Ally
Yup, that's what I heard myself say.
Dallas

Thanks!
Trish
How'd it go?

Ally
Great! Can anybody teach me how to mow a lawn?
Dez
There's no time for that, Ally. I'm about to set the record for the world's biggest brain freeze.
Austin
Mmm, Dez? There's no record for that.
Dez

Man! Well, it's not working anyway, so- MMMMMMMMM AHHHHHHHHHHHHHHHH!
Trish
I can't believe you mowed every lawn on Dallas's block!
Ally
After I mowed his lawn, it just looked so much better than all the other lawns. I felt bad for them.
Trish

Well, when you say it like that, it makes so much sense!
Trish

What's all this stuff?


Ally
That's our inventory for the entire year. My dad orders everything at once so he can save, like, 4 dollars.
Lester

4 dollars and 36 cents.
Lester
Ooh, Ally! I need you to carry these boxes upstairs for me. You know I have a bad back.
Ally
There's a lot of boxes. Can't we, maybe, hire someone to help
Trish
I'm in between jobs right now. I'd love to work here!
Ally
I don't think so. (at same time as Lester)
Lester
Absolutely not.
Trish
Why not? I'd be a great employee.
Ally
Trish, you've had 30 jobs in the last month. You've never even kept a job for 3 days.
Trish
That hurts. I worked at the Calendar Store for almost a week, and I know because it was a Calendar Store.
Ally

It wasn't a week. It was a weekend. And I would know because you called in sick and I filled in for you both days.
Austin
Check it out! Me and Dez are going to set the world record for spinning a basketball on our finger.
Dez
The old record is 22 hours and 12 minutes. We are going to demolish it.
Austin & Dez
(does "What up" handshake)
Trish
Which one of you doofs is going to set the world record?
Austin
What do you mean?
Ally
There can only be 1 record holder.
Austin
Probably me. I'm getting pretty good at this.
Dez
It's gonna take a lot more than 'pretty good' to beat very pretty good.
Austin & Dez
Oh. It's. On!!!
Austin

Okay, it'll be on, later.
Trish
What are you, going to do about your dad?
Ally
I'm just going to tell him the truth.
Lester
Hey, Ally.
Ally

Nobody new works here.
Austin

In less than 24 hours, one of us will hold the world record for spinning a basketball.


Dez
And by 'one of us', he means me.
Austin
And my 'me', he means me.
Dez

I'm confused.
Austin
These official record book officials will be officially recording our official times. Officially. Ready? (the two start to spin their basketballs) I could do this all day.
Dez
Me too. Wait, did you mean spin the ball or stare? I'm confused.
Austin
The ball.
Dez

Good. 'Cause you know I stink at staring.
Dallas
You sure you're not upset I sold that 500 dollar guitar for 50 dollars?
Ally
Oh, that's okay. You didn't see the extra zero on the price tag.
Dallas
There was a price tag?
Ally

Wow
Dallas
So what can I do now?
Ally

I need you to... take all these picks out of the jar, separate them by color and then mix them back up again and put them back in the jar.
Ally
I couldn't fire Dallas. I tried, but then he started talking about how much he likes hanging out with me, and I ended up giving him a raise.
Trish
I like hanging out with you.
Ally

I'm not giving you any money.
Dallas
I wasn't the best employee. I just, I get so, nervous when I'm around you, sometimes.
Ally

You get nervous around me? Around nervous I get you. See?
Trish
Well, on a more important note, guess who kept her job at the cellphone cart for three whole days?
Ally
Not you it's only been two days.
Trish

What? I just quit. Aw, man. Oh well.
Songs Featured
Cast
Main Cast
Recurring Cast
Trivia
This was one of the episodes where Austin & Ally had little interaction/storyline together at all.
This episode is Dallas's last appearance.
Trish is hired at the cellphone accessory cart after Dallas quit.
Trish takes over Dallas' job at the cellphone accessory cart only to prove a point.
In this episode, it is mentioned that Trish has had 307 jobs already.
This episode title refers to Austin and Dez attempting to break the world record for spinning a basketball on their fingers, and Dallas being a horrible employee and wrecking Sonic Boom.
This is the second time someone has pretended to be Dallas, the first time was in Club Owners & Quinceaneras.
This could be thought of as one of the main friendship episodes, focusing on the two big friendship pairings: Trally and Daustin.
As of this episode, Dallas no longer works at the cellphone accessory cart.
At one point, Austin is wearing a similar top to the one he was wearing at the beginning of Deejays and Demos.
Eye of the Tiger by Survivor is playing when Dez and Austin start getting competitive at spinning the balls on their fingers.
The title of this episode is very similar to the title of the episode Records & Wrecking Balls as they both contain the words "records" and "wreck."
Sonic Boom is a reference to the mobile video game, Sonic Boom.
Goofs
When Austin told Dez he had his eyes open for 8 seconds, it was really around 14 seconds.
Transcript
To view the World Records & Work Wreckers transcript, click here.
Gallery
| | |
| --- | --- |
| | To view the World Records & Work Wreckers gallery, click here. |
References