"Videos & Villains" is the eighteenth episode in Season 3 of Austin & Ally. The episode aired on September 21, 2014. [1] This was the 20th episode to be filmed in Season 3. [2] The episode earned 1.9 million viewers, which is the lowest viewed episode in the series to date.
Overview
When Austin disappears before his scheduled performance on "Video Countdown Live," the gang soon discovers Brooke is holding Austin captive and threatens to hurt him and the gang unless he writes a song for her. [1] So Ally, Dez, and Trish have to find a way to help him.
Episode Summary
Austin gets new shoes given to him by a shoe company, who wants him to use every time he performs. Trish tells him he should debut them later at the Austin Moon Video Countdown Live Special, which is a voting contest of the top 10 voted Austin songs. Dez exclaims he personally voted 700 times for "Finally Me", to which Austin tells him it's Ally's song.
Later at night, when the show is about to start, Austin can't find his moonwalkers (shoes) in his bag. He then flees off to Sonic Boom to get them while Jett Deely and Dez starts the countdown. At Sonic Boom, Austin is held captive by Brooke who was the one who sneaked and stole his shoes. She keeps him as a hostage until he writes her a love song. When Trish starts to worry about Austin, she comes to Sonic Boom in the practice room but ends up getting trapped too due to Brooke removing the door handle from inside.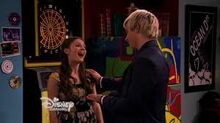 Austin tells Trish to text Ally to get them out of there. Ally sends Dez there but he dresses up as a spy blasting downwards from the vents but instead enters the room inside. Their last chance is Ally, who, with Jett announces the last song.  The three manage to get out of the door by trying to blast the door out, but Ally opens the door just in time and before they even hit the door. Austin finally comes back to perform an illusionistic-gravitational performance of "Upside Down" dedicated to his fans (except for Brooke). Back at Sonic Boom, the team talks about how Austin's moonwalker shoes are selling out. Dez makes shoes of his own, which basically is just that he put heavy dumbbells over his feet.
(The top 10 song countdown list is in the Trivia column)
Memorable Quotes
To be added in.
Songs Featured
Cast
Main Cast
Guest Cast
Trivia
The writers tweeted the Austin & Ally Wiki the title of this episode on Twitter.
Upside Down will be featured again in this episode, making this episode the episode that the writers were talking about when they said that song will be featured in another episode.
Carrie Wampler returns as Brooke in this episode. This is the last appearance of her for the remainder of the season.
This is Jett Deely's second appearance in Season 3, the first being Austin & Alias.
This is a clip show episode.
The Top 10 list for Austin Moon's performances were:
Peyton List, Debby Ryan, Andy Milder, and Julia Campbell all make cameo appearances in Can You Feel It and You Can Come To Me.
Several songs from previous episodes and seasons were mentioned and heard in this episode.
This episode along with Glee Clubs & Glory, contains the most songs in an episode with 11 songs in this episode and 15 songs in Glee Clubs & Glory.
Austin gets his own pair of shoes called 'Moonwalkers'.
This episode got 1.9 million views.
The song "Upside Down" in the episode is clearly a demo because you can hear some vocal changes that are different of the ones in the CD Version.
Upside Down was reprised in this episode.
"Videos" refers to the top 10 music videos shown during Video Countdown Live; "Villains" refers to Brooke kidnapping Austin.
Austin and Ally are officially a couple from the previous episode.
Goofs
In the Top Ten, the video of Timeless should not be there, because it was only a dream of Austin. (One of the Austin & Ally writers on Twitter addressed this issue and stated that originally there was a scene that joked about where the video came from. However Austin could have sung it off-screen and Ally could have written it off-screen, but the video should still not be there.
Team Austin eat food in Sonic Boom twice in this episode, which is violating Ally's strict "no eating in the store" rule. However, since it hasn't been mentioned since season 1, it is possible that Ally no longer bothers with the rule.
Brooke really should have been arrested for kidnapping Austin, because it is against the law to kidnap someone, especially a famous pop star. Either that or Austin really should've put a restraining order on Brooke. Especially after what happened in the season 4 episode Mysteries & Meddling Kids. However, Brooke could've been arrested off-screen and simply could've escaped jail. Or could've been paroled.
Team Austin didn't even consider calling the cops on Brooke or threaten to have her arrested. However, this might've been because they knew how dangerous Brooke was and called the cops after the concert.
Transcript
To view the Videos & Villains transcript, click here.
Gallery
| | |
| --- | --- |
| | To view the Videos & Villains gallery, click here. |
References