'Austin & Ally' Profile: Trish De la Rosa
Play Sound
"
Guess who got a job at ________!
"

— Trish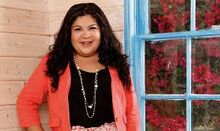 Patricia Maria "Trish" McCoy (née De la Rosa) (Patricia Dominica Guadalupe Vida Cielo McCoy in an alternate universe) is the deuteragonist on Austin & Ally. She is a 17-year-old girl, a fashionista who becomes Austin Moon's manager and friend. She is also Ally's best friend since kindergarten. She's known to wear a lot of crazy uniforms because she goes through lots of jobs and gets fired very quickly. She tends to get annoyed with Dez often; they are currently frenemies. Trish is the type of person who loves having a loud outfit. She can be a bit bossy and lazy, but always means well and looks out for those close to her. She is a part of Team Austin and manages the group well.
Trish can occasionally be selfish, but overall she's a great friend. Her jobs are known to frequently change, as she would get fired due to lack of discipline at work; however, she takes her job as being Austin's manager very seriously, as she said that it's the only job she ever liked, in "Managers & Meatballs". Throughout the series, she gets more serious about managing and expands her clients to bigger stars, such as Boynado. She is the wife of Chuck.
Trish is portrayed by Raini Rodriguez.
Personality
Trish is portrayed as loud, lazy, obnoxious, fiery, and usually selfish when it comes to money. However, she's extremely loyal to her friends and shows deep compassion for them in their times of need. Trish is always there to keep them on the right track and not let their deficiencies get the better of them, whether it be Austin's immaturity, Ally's dreaming nature or Dez's eccentricities and stupidity. Despite being feisty, she's shown to have a vulnerable side, as seen in "Beauties & Bullies", which depicts Trish being bullied for getting the lead role of Sleeping Beauty and breaking down in tears.
She's shown to dislike labor of any kind and is often seen to only take initiative in things she truly cares for, such as fashion, managing tactics, and her friends or family. She's also a bit self-centered and loves the spotlight when it's on her, though for the most part, she's perfectly fine in the sidelines. Her temper is also shown to be fiery and everyone knows that.
Biography
Background
At the beginning of the series, Trish is introduced as a lazy, fun, talkative and outgoing person, who is also Ally's best friend and later becomes Austin's manager.
In Season 2, she also becomes Ally Dawson's manager after she conquers her stage fright. She usually gets fired from her jobs, but always gets new ones. Trish likes being lazy and not doing her job, though the only job that she could keep for so long was Austin and Ally's manager. She and Dez usually fight a lot and have kind of a "frenemy" relationship.
In Season 3, she gets a new job at Shredder's Beach Club.
In Season 4 she gets a job at Club-a-Dub-Dub.
History
Physical Appearance
Trish is shown to be a short, plump teenage girl with long, black, curly raven hair, dark brown eyes, and light olive skin. Her hair used to be shorter in Season 1. She started to wear her hair less curly and more wavy in Season 3.
Her fashion style is bold and daring, with her trademark animal print fabrics and bright colors. She usually wears colorful skinny jeans with a flowing blouse, often paired with a blazer or jacket and flats for shoes; very rarely does she ever wear heels.
A signature accessory she's grown to have is headpieces that she seems to attain with every job she goes through.
Relationships
Friends
Best Friend/Practically Sisters/Client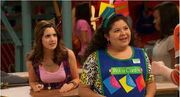 Ally and Trish have been friends since they were in kindergarten. Ally is able to tolerate Trish's character. They seem to hang out a lot. Trish is Austin's manager, and Ally is Austin's songwriter. In Partners & Parachutes, Trish becomes Ally's manager. They act like sisters because they know so much of each other and have known each other since kindergarten. In Freaky Friends & Fan Fiction, Trish gets trapped in Ally's body.
Best Friend/Client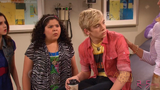 Trish is Austin's manager for his music career. They hang out with each other a lot. They have a lot in common with each other. They like hanging out together every day with their friends, especially when everyone is hanging out at the beach club.
Friend/Frenemy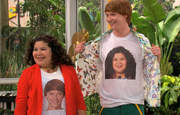 Dez and Trish are friends, although they fight a lot. They have an insulting thing in almost every episode. In the episode Backups and Breakups, Ally thinks that they are dating because they are whispering and hugging, but Austin disagrees because it's too weird. They find out that Trish had a secret boyfriend and Dez loves romance movies. Both are freaked out at the thought of dating the other one. Trish thinks Dez is childish and stupid, and Dez thinks that Trish is mean. But, as season 2 came, Trish has been a little nicer to Dez.
Enemy
Margo bullied Trish in Beauties and Bullies, upsetting her and making her cry. They are currently enemies.
Family
Mother
Not much is known about their mother-daughter relationship, but Trish's mom remembers several jobs Trish has had before.
Mr. De La Rosa
Father
Not much known is about their father-daughter relationship, but they danced together at Trish's quinceañera. 
Brother
Trish and JJ are siblings. Trish let JJ do his magic act at her quinceañera even though he could barely do a simple trick. Ally said that Trish really doesn't like her little brother, and they seem to make fun of each other often, but they still love each other a lot.
Romances
Unknown Relationship/Ex-boyfriend
Roger asked out Trish after he was hired to be Austin's backup dancer in Backups & Breakups. It is unknown about their relationship now. Trent dated Trish so he could become Austin's back-up-dancer, but when Ally found out he has a girlfriend and tells Team Austin, Trent challenged him to a dance-off. He lost and very soon after, Trish had a new boyfriend, Roger, and even though it's unknown if they are still together, it's likely they broke up.
Ex-Boyfriend/Enemy
Trent dated Trish so he could become Austin's back-up-dancer, but when Ally finds out he has a girlfriend and tells Team Austin, Trent challenged him to a dance-off and he lost. They break up at the end of the episode.
Ex-Boyfriend
In Cupids & Cuties, it is revealed that Trish met Jace on Austin's tour in Albuquerque. In this episode, Jace comes to visit Trish. They go on a date, which ends in disaster. The tension between them is healed by the end of the episode though. In Proms & Promises, Jace came to Miami to be Trish's prom date. It's revealed in Seniors & Señors that Trish and Jace were on a break.
Husband
Throughout the events of Freaky Friends & Fan Fiction, Chuck hit on Trish and tried to win her over- even at the end when the story was officially over. In Proms & Promises, she went to the dance with Chuck since Jace had broken his leg. In Duets & Destiny, it is revealed that Trish and Chuck are married in the future and have a daughter.
Jobs
Trivia
Her full name was revealed to be Patricia Maria De la Rosa in Club Owners & Quinceaneras.
Trish is an Auslly shipper.
It's possible she doesn't like mushrooms according to Zaliens & Cloud Watchers.
Even though she is seen to be horrible at almost all of her jobs, she is a good manager.
She said that being Austin's manager was the only job she likes, as heard in Managers & Meatballs.
She becomes Ally's manager in the episode Fresh starts& farwells
Her favorite pizza topping is pepperoni.
She constantly gets hired and fired. She usually can't keep a job for more than one day.
She has a Tweeter account.
She likes gingerbread.
Trish can lip sync perfectly to what anyone says.
She is a fan of the Zaliens series, but her favorite Zalien movie out of the 14 Zaliens movies is Zaliens 3.
She is good at bedazzling things.
She is really good at getting revenge. Ally considers her the best. Trish herself once said, "If there was a revenge store I'd never get fired."
She can't make lattes, as seen in Songwriting & Starfish.
She can knit, as shown in Burglaries & Boobytraps.
She is the youngest of the four because everyone was already fifteen when Trish turned fifteen in the episode Club Owners & Quinceaneras. She is also the shortest.
She and Dez shared their first hug in Everglades & Ally-Gators.
She was/is only good at three jobs - Cell Phone Accessory Cart, Puffy's Pillows, and Austin's Manager.
Trish was on a magazine cover (with Austin), though she was under the disguise Ally Dawson, due to pretending to be Ally in one of Austin's interviews (Deejays & Demos).
From one to a billion, her favorite number is two.
She and Dez have the same favorite number.
It is said that Trish can't spell Jiu-Jitsu, so she told Cheetah Beat that Austin can do karate.
She can't swim as mentioned in Magazines & Made-Up Stuff.
Trish wrote a one-woman play called "You're Hired, You're Fired: The Trish De la Rosa Story" and performed it at Ally's fundraiser in Parents & Punishments.
Being Austin's manager, her job at the Post Office, and her job at Shredder's Beach Club are the only jobs she kept longer than three days.
She was once fired from being Austin's manager.
Two of her favorite places are the Pizza Parlor and the Arcade.
Trish admitted being Austin's manager was the best job she had ever had shown in Managers & Meatballs.
She has been going through jobs since she was in kindergarten.
She and Ally were both born in the same month (February).
She likes to hang around rich people so she can get cool things.
Of all her jobs, she takes being Austin's manager seriously. She eventually gained more clients in Relationships & Red Carpets, and considers quitting all her day jobs and starting her own managing company.
Her two dream jobs seem to be getting revenge (Secrets & Songbooks) and getting paid for sleeping all day. (Ferris Wheels & Funky Breath)
She thinks memories are "overrated." (Ferris Wheels & Funky Breath)
In Rockers & Writers, it's shown that Trish owns an iPhone, but in Bloggers & Butterflies, Dez fries her phone, but this time, it's a flip phone, not an iPhone.
Trish once dated Trent but broke up with him.
After Austin hired Roger to be his backup dancer, Trish began to date him.
She is always annoyed by Dez.
She worked at a Flower Store in Girlfriends and Girl Friends.
She got Ally an Austin "Dart Board" when Ally texted her about Austin choosing Kira in Chapters & Choices.
She is Ally's manager now.
She did not have a new job in Partners & Parachutes.
She likes pizza, as shown in Zaliens & Cloud Watchers, Soups & Stars, and Girlfriends & Girl Friends.
She does not like mushrooms on pizza.
She had a money tree in Freaky Friday & Fan Fiction.
It was revealed in an exit interview from the Make-Up Kiosk that she doesn't know how to put on makeup.
She wanted Ally to be with Austin.
She is known for saying "Guess who got a job at _________ "
Trish started dating Roger in Backups & Breakups. It is unknown if they're still dating.
She mentioned in Tracks & Troubles that she wants her two husbands to be Ryan Gosling and Taylor Lautner; this may imply that she has crushes on these two celebrities.
Ally says that Trish hates the outdoors in Boy Songs & Badges.
Trish has many nicknames, but most of them are given to her by Chuck. 
Trish can play the Bass Guitar as shown from the picture from Future Sounds & Festival Songs.
Trish was Austin's lawyer in Tunes & Trials.
She would do anything for money.
She got fired by Ally twice in Fresh Starts & Farewells but got hired again.
She is shown to be a good singer in Real Life & Reel Life when she sang in Lost His Voice Song.
In What If's & Where's Austin, Trish becomes a pop star and gets signed to Starr Records although it's imaginary.
Ally's mother, Penny, named a gorilla after her.
Apart from being Austin and Ally's manager, the only other job that Trish has managed to keep for more than one episode is working at shredders Beach Club.
She mentioned in Austin & Alias that she's not a good listener.
Even though she and Dez fight sometimes, they are still friends and really like each other sometimes.
According to her, she can't swim. (Magazines & Made-Up Stuff)
She has a crush on Dwyane Wade, shown in Fanatics & Favors.
She nearly broke up with Jace in Fanatics & Favors, for blowing her off, but didn't when she realized he did it to buy her a cool chair that massages her, also including a T.V. and a cooler.
Trish stopped saying her catchphrase in Beach Clubs & BFFs since as of that episode, she has managed to keep the job in every episode of Season 3 so far.
In Beauties & Bullies, Trish got the role of Sleeping Beauty.
In Beauties & Bullies, Trish got bullied for the first time.
Trish started her own management company in Relationships & Red Carpets.
She got a job at Club A Dub Dub in Season 4.
Trish once dyed her brother's hair green when he was sleeping.
In the future, Trish marries Chuck and they have a daughter, which is ironic considering Trish found Chuck annoying throughout the series. (Duets & Destiny)
She once worked at the lost and found.
Quotes
| | | |
| --- | --- | --- |
| " | Guess who got a job at... | " |
| | | |
| --- | --- | --- |
| " | When this movie's finished, we need to work on your time management. | " |
| | | |
| --- | --- | --- |
| " | Looks like our planned work, they don't seem mad at each other anymore. | " |
| | | |
| --- | --- | --- |
| " | Sorry to interrupt your moment, but what the heck was that kiss about? | " |
| | | |
| --- | --- | --- |
| " | Kissing Dez wasn't the worst thing in the world, losing my best friend was. | " |
| | | |
| --- | --- | --- |
| " | I'm freaking! You're my favorite NBA player, I never miss a Heat game! | " |
| | | |
| --- | --- | --- |
| " | .....I'm not, but I'm a Dwayne Wade fan! He's so cute! | " |
| | | |
| --- | --- | --- |
| " | Never wait on a guy. Actually, never wait on anybody. That's why I'm a terrible waitress. | " |
Gallery
| | |
| --- | --- |
| | To view the Trish De la Rosa gallery, click here. |