Trent (aka T-Fame) is Trish's ex-boyfriend and Austin Moon's former backup dancer who appeared in two Season 2 episodes of Austin & Ally. He is portrayed by Trevor Jackson.
Character History
In this episode,
Trent
and Trish are secretly dating. At first, Dez is the only one who knows after he catches them at the movies. Trent auditions to be Austin's backup dancer and after some persuasion by Trish and Dez, he is hired. Later Austin and Ally finally find out about them, after first thinking that Dez and Trish were dating, and they are okay with it. But the next day, Ally finds out that Trent has another girlfriend and is only dating Trish so that he could be Austin's backup dancer. After everyone finds out, Trish dumps him, and he is fired. Trent then accuses Austin of being worried about being outshone by him and challenges him to a dance off that Austin ultimately wins.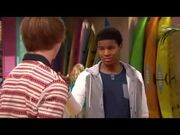 Trent is seen again when he comes to Sonic Boom to apologize to Trish by presenting her with a apology t-shirt and an apology accepted hoodie. Trish refuses his apology, and he is kicked out of the store. He later comes to the practice room where he overhears Austin and Ally working on a new song. He steals it and takes credit for it. Dez also teaches him how to make a person 5-person video. He made a video of him singing the song, which is similar to the video for Double Take. He makes an appearance on The Wanda Watson show along with Austin and sprayed on the cologne that he stole from Austin and Dez. He also called the cologne Stay Smooth when it was actually Sweet Puppy. He later gets attacked by bees that Dez accidentally sets free since the cologne made him smell like honey. After he accuses Austin for setting the bees free, he was considered The Crybaby of the Week, replacing Austin's spot. This humiliation put an end to his career.
He doesn't make an actual appearance in this episode, but his character makes a brief cameo when the latest issue of Cheetah Beat is shown to the watchers. His face along with the caption "Win a Record Contract?!?!?!" are on the cover.
Appearances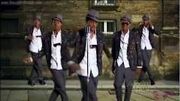 Trivia
He dated Trish while he was dating another girl named Becky.
He calls his girlfriends "Trent's Boo".
He had the second most embarrassing video. The most embarrassing was of Ally on the Helen Show in Rockers & Writers.

He was Austin's backup dancer.
He stole the song that Ally and Austin were working on in the practice room when Austin and Ally weren't looking.
Team Austin calls him "T-Lame".
Trish has called him "T-Fake".
The Entertain Me Tonight Host called him "T-Blame".
Austin has called him Jerk-omus.
He was "The Crybaby of the week" on Entertain Me Tonight.
He got attacked by stingless bees on The Wanda Watson Show.
He is not seen or mentioned after Crybabies & Cologne
It is unknown if he will appear again.
He copies Austin at almost everything he does.
Trent is very jealous of Austin and wants to be more popular than him.
He was sweating when a bee landed on him, indicating a fear of bees.
Austin said that his handshake is getting worse.
He stole Austin's cologne (Sweet Puppy) and called it "Stay Smooth".
He started a fake feud.
He stole Austin's TV appearances like on the Wanda Watson Show.
Ally wants to put a "Kick Me" sign on Trent's back on the Wanda Watson Show.
His stage name (T-Fame) is a possible parody of T-Pain.
He may have continued his career somehow, even after the Wanda Watson Show incident, seeing as his face is on the Cheetah Beat issue involving Austin and Kira.
Because of that same magazine issue, it's possible that he may have gotten a record contract after the events of Crybabies & Cologne when it said on a magazine cover of Cheetah Beat.
He may have possibly developed a phobia of bees after the ending of Crybabies & Cologne.
Austin, Ally and Trish hate him.
He has a best friend named Dex, a parody of Dez.
Gallery
| | |
| --- | --- |
| | To view the Trent gallery, click here. |