Fan Page

This article is just a fan page. It is a part of the Austin & Ally fanbase all based on information from the series or cast and crew.
Traustin (Tr/ish and Austin) is the friendship pairing of Austin Moon and Trish De la Rosa. They are best friends and they care a lot about each other.
For the real life pairing of Ross Lynch and Raini Rodriguez, see Roni.
Other Names
Ausrish (Aus/tin and T/rish)
Austrish (Aus/tin and Trish)
Stinish (Au/stin and Tr/ish)
Austish (Austi/n and Tri/sh)
Aurish (Au/stin and T/rish)
Ausish (Aus/tin and Tr/ish)
Trin (Tr/ish and Aust/in)
Trisn (Tris/h and Austi/n)
Ausish (Aus/tin and Tr/ish)
Arish (A/ustin and T/rish)
Shaustin (Tri/sh and Austin)
Ishtin (Tr/ish and Aus/tin)
Trishin (Trish and Aust/in)
Trishtin (Trish and Aus/tin)
Aurosaoon (Au/stin M/oon and Trish De La /Rosa)
Tristin (Tris/h and Aus/tin)
De La Moon (De La Rosa/Moon)
Trishustin (Trish and A/ustin)
Moniaria (Moni/ca and M/aria)
Traustin Moments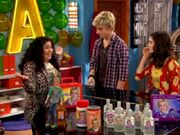 Trish has Austin's song for her ringtone and is seen holding an Austin doll.
Trish becomes Austin's Manager.
Austin hugged Trish when she booked him a gig on a TV show.
Trish booked Austin a gig with Shiny Money.
Trish made chocolate-frosted French fries for Austin but that was just to win Austin over and to get the extra ticket to the Miami Internet Music Awards.
Trish was the first one to do a special favor for Austin.
When Trish came up on stage at her birthday party, Austin says that she looks great.
Trish gave Austin a card to apologize to Ally.
They were on a cover of a magazine together.
Austin said "Ally" always talking about herself and a third person annoys him, which possibly means that he was annoyed with Trish.
Austin knew that Trish knew everything about Ally since she's her best friend.
They danced for the commercial.
They portray a married couple for the commercial.
Austin's hand was on Trish's waist when they dance in the commercial.
While filming the Sonic Boom commercial, Austin and Trish sing "Sonic boom boom boom boom boom boom boom" together.
They were holding hands when they were dancing.
She gave Austin a mint.
She put her arm around Austin at the piano.
Austin and Trish (along with Dez), helped Ally get into M.U.N.Y.
Trish attended Austin's album release party.
While Dez was handing Austin lots of albums to sign, he looks at Trish with a confused look.
Austin and Trish both didn't understand the true meaning of M.U.N.Y. (Music University of New York.)
Austin felt bad for Trish that her boyfriend used her.
Austin fired Trent because he was using Trish.
Austin did the dance-off for Trish.
Austin hugged Trish first after he won the dance-off. 
Trish didn't want the fact that she and Trent were dating influence Austin's decision over who to hire.

Trish was able to convince Austin to make Trent his backup dancer, even though she was very annoying about it.
Trish asked Austin to sing to various people in order to get free stuff.
As they left, they were holding hands.
They hug twice.
Trish felt bad about Austin when he wouldn't sing at times square in NY.
Trish told Austin that whenever he had a dream, he could come to her and she would make it happen.
Trish said, "Sorry Austin!" when she announced they were going to land in Philadelphia for a while.
Trish announced that Austin's tour has been changed the fact that the venue was too small since too many people wanted tickets for his concert.
They hugged twice.
Austin wanted Trish to take the credit for the fact that he got Jimmy to let Ally be the opening act for Austin's tour in Miami.
Trish hugged Austin for this.
They were both very sad (along with Dez) when Ally said she was staying in Miami.
Trish (along with Dez) joined Austin on his tour (even though she has to since she's Austin's manager).
Trish looked worried for Austin when fans ruined his clothes.
When Trish answered Ally's video chat request, Austin stood close to her.
They were standing close to each other in most of the episode.
Trish seemed worried when Austin kept going on the wrong bus.
Trish was worried when Austin dropped their breakfast.
Trish said "I love Austin too".
When Austin came back with the breakfast, Trish (and Ally and Dez) hugged him.
In the hug, they were very close to each other.
Trish said their lives would have been awful without Austin.
Trish felt bad for Austin when Ally didn't spend time with him.
They were standing very close to each other when Ally and Gavin performed Me and You.
Trish felt very sorry for Austin when he said they weren't going to get back together, and comforted him.
Trish cared a lot about Austin in this episode.
Trish tried to help Austin get Ally back and knew he wanted Ally back.
At the end, they both wore the same color jacket, yellow.
It's revealed that they're both huge Dwayne Wade fans
They both had the same facial expression when they entered Dwayne's mansion.
They were both (along with Ally and Dez) a little freaked out with how obsessed Dwayne was with Austin.
When Team Austin found Dwayne's secret shrine to Austin, they were standing very close together.
They both went to the zalien conversion together, along with Ally and Dez.
They both loved taking part in the role-playing.
Austin smiled at Trish a couple of times.
Trish (and Dez) loved Austin (and Ally's) performance.
They were both terrified when they found out that Zip and Ziltch were real zaliens, and were standing next to each other.
When Trish was trying to wake Dez up, Austin was next to her.
When Trish was joking around with Ally at the end of the episode, Austin laughed and they high fived each other.
Austin felt sorry for Trish that Jace couldn't go to prom with her, cause he broke his leg.
They were both excited about prom.
When Austin sang to Piper, to ask her to prom, Trish was smiling and liked his performance.
At the end of the episode, Trish asked Austin to help her distract Jace and Chuck.
Trish wished Austin luck with the Ally and Piper drama.
Trish was really happy for Austin when he and Ally finally got back together, cause she knew he wanted her back, and cause she (and Dez) have always wanted them to be together.
They were standing close together in some scenes.
Trish told Austin how she felt when she was with Chuck at prom when she really wanted to be there with Jace.
Trish was happy for Austin when he won prom king.
Trish booked Austin to perform on Video Countdown Live
Trish got worried when Austin was held captive by Brooke and went to look for him
They got stuck in the practice room together, by Brooke
Trish (along with Ally and Dez) loved Austin's newer version of Upside Down
They both auditioned for the school play, and both got parts (along with Ally, Dez, and Carrie)
Austin was impressed with when Trish managed to play the part of Sleeping Beauty. (She actually fell asleep)
Austin (along with Ally, Dez, and Carrie), felt sorry for Trish and stood up to everyone when she was made fun of in school.
Austin wanted to show Trish that he (and Ally, Dez, and Carrie) have her back
Austin and Ally write a song (Superhero) for Trish
Austin performs and dedicates Superhero to Trish, and gets close to her
When Austin walks into the practice room and sees Trish crying, he gets worried and says "Are you crying?", in a meaningful tone.
They group hug with Ally, Dez, and Carrie
Austin was the first to put his arm around Trish, just before the hug.
Austin cared lots about Trish in this episode
They both told stories, along with Dez
They both scared Ally, along with Dez
Austin laughed when Trish scared Ally
Trish laughed when Austin scared Ally
Trish smiled and said she loves that Austin and Ally are back together.
They worked together to convince Lester to not sell the store, along with Ally and Dez
They did a play with Ally and Dez and played Lester and Penny
They were next to each other when Ally performed Parachute
Austin asked Trish why she was talking in a country accent
Trish (and Dez) were really excited when Auslly finally admitted they love each other, showing they've waited for this to happen
Trish started screaming when Austin and Ally were kissing
Trish told Austin (and Ally) that Jimmy had fired Austin from his label, and felt sorry for Austin
Austin said that Trish started her own management company is awesome and smiled at Trish
Trish said she's really going to miss having Austin as a client
They group hugged with Ally and Dez
They were next to each other during the group hug
Austin passed his test, thanks to Trish.
Austin said he'd pay Trish if he passed the test, which he did
Gallery
| | |
| --- | --- |
| | To view the Traustin gallery, click here. |