Fan Page

This article is just a fan page. It is a part of the Austin & Ally fanbase all based on information from the series or cast and crew.
Trally (Tr/ish and Ally) is the friendship pairing of Ally Dawson and Trish De la Rosa. They have been friends since kindergarten. They are currently best friends. They are practically sisters.
For the real-life pairing of Laura Marano and Raini Rodriguez, see Laini.
Other Names
Trilly (Tri/sh and A/lly)
Trishy (Trish and All/y)
Allish (All/y and Tr/ish)
Dawla Rosa (Daw/son and De/ La Rosa)
Trisly (Tris/h and Al/ly)
Trally Moments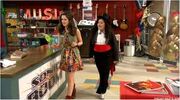 Trish helps Ally tell Austin he stole her song.
Trish tells Ally that she can take all the time she needs but then tells her "times up".
Trish tells Ally that she's there for her.
Ally tries to help Trish clean Face Puncher's jacket before he brings Mad Dog.
Ally tells Face Puncher Trish is a good employee than when Trish says "Ally!", Ally says that Trish is a horrible employee.
Trish helps Ally find a way to fire Dallas.
Trish coaches Ally so she'll be ready to fire Dallas.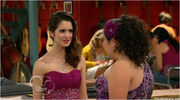 Ally supports Trish and tries to say she is a good manager.
Ally wants Trish to be Austin's manager.
Ally feels bad when Austin fired Trish so she ends up cleaning the instruments.
Trish invites Ally to her quinceanera because she's her best friend.
Trish promises Ally if she's calm, Trish will give her all of her gold stars.
Ally took Trish's place when working at Suzy's Soups.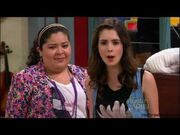 Ally and Trish work together to find the burglar.
They both get trapped together in the boobytrap.
When Ally has to go back to work at the store, Trish goes with her.
When Ally speaks her worries aloud while working at Sonic Boom, Trish reassures her that everything will be fine.
Trish agrees that Owen needs to be found, knowing how much Owen means to Ally.
When Ally was feeling hurt after her argument with Austin, she was lying on the piano telling her feelings to Trish.
Ally and Trish head to Melody Diner by themselves and sit together.
After noticing Austin and Dez's (failed) attempts to create a paper application for Ally, she decides to use the process of applying online so that Ally will have a better chance at acceptance into MUNY (Music University of New York).
Trish convinces Ally to talk to Ethan, thinking that they'll bond over their 'nerdiness'.
Trish is part of the reason that Ally decides to try to be more confident.
Ally and Trish walk in together when confronting Austin and Dez about what the 'evil gutless rat' text means.
Ally tries to figure out Trish's secret.
Ally knows that whenever Trish acts suspiciously, something's up.
Ally gushes happily over Trish's new boyfriend.
Ally is angered when seeing Trent, Trish's new boyfriend, acting all coupley with another girl.
Ally tells Trish about Trent being a cheater.
Trish at first doesn't believe Ally but then realizes that Ally would never lie about that to Trish.
When Trent tries to ask Ally for a song, Ally rejects him, saying that after he hurt Trish like that, she would never do him a favor.
Trish called Ally a perfect girl.
Trish tried to help Austin and Ally be together by hinting that Ally is the perfect girl for Austin.
They had a picnic together in the practice room.
Trish felt bad for Ally when she knows that Austin has a girlfriend.
Trish, being a best friend, gave Ally advice. 
Trish told Ally that Austin liked her.
Ally went to Trish on advice for Elliot.
Trish was happy for Ally when she realized that Austin must like Ally back.
Ally asked to talk to Trish privately instead of Dez.
Trish, along with Dez, tried to help Ally get over her stage fright by throwing paper at her.
When Ally told Trish that Austin picked Kira instead of her, Trish brought frozen yogurt and tissues if Ally was sad and a dartboard with Austin's face on it if she was mad.
After Austin kissed Ally and Kira agreed to be Austin's girlfriend, Trish looked shocked and sad for Ally, since he broke Ally's heart.
Team Ally was comprised of only Trish and Ally.
For the majority of the episode, Trish and Ally were hanging out together.
Trish booked Ally an interview for Cheetah Beat.
When Austin performed, Trish and Ally were sitting together.
Trish was really happy that Austin and Ally were now a couple.
When Team Austin switched bodies, Trish was in Ally's body.
Trish offered Ally to have a relaxing day at the spa since Trish worked there.
Trish felt bad when she messed up Ally's hair, teeth, face, and her ankles but Ally knew she meant well.
Trish got Ally a part in a big showcase.
Trish helped Ally get Dez and Chuck to end their feud.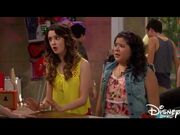 Trish (and Dez) supported Austin and Ally with signs.
Trish wanted Ally to stop fighting with Austin.
Ally got nervous when Trish about her kiss with Austin.
Trish said she had a surprise for Ally.
Trish was sad when Ally fired her.
She got Ally a record deal with Ronnie Ramone.
They hug.
Ally agreed that she had one great manager. (Referring to Trish)
Ally admitted to Trish that she had feelings for Austin and thought Austin had feelings for her too.
When Ally leaves Trish said she's proud of her and they hug again.
Trish was really happy when she saw Ally coming early from her plane.
Trish was also delighted when she found out that Ally was going to stay on tour.
When they first see each other they hug.
In the first scene, Ally had a hallucination that Trish (and Dez) were walking back into Sonic Boom.
In her hallucination, Ally hugged Trish first and then Dez.
In their thoughts, Ally and Trish were best friends.
Ally said she'd like to think that she and Trish would still have been best friends even if they haven't met Austin.
Trish told Ally that kissing Dez wouldn't have been the worst thing in the world, and that losing her best friend (Ally) was.
Ally hugged Trish.
Trish bought Ally teacups from every state on Austin's tour as souvenirs because Ally missed most of the tour.
Ally was very thankful that Trish got her the teacups.
Trish became jealous of Ally and Kira's new friendship.
Trish wanted to book Ally a gig at Shredder's Beach Club.

Ally planned Trish a luau at Sonic Boom for her.
Ally wrote Redial about her friendship with Trish and dedicated it to her.
Trish said that she was glad that she and Ally are besties.
They hugged
They were both excited about prom
Trish tried to comfort Ally when she thought Gavin wasn't going to ask her to prom
They both enjoyed Austin's prom proposal song to Piper, although Ally was jealous.
Trish wondered where Ally was and walked over to her.
They were seen talking with their friends.
Trish was happy for Ally when she won prom queen.
Trish was very happy when Ally and Austin finally got back together, because she (along with Dez), have always wanted them to be together.
They were both seen dancing with their boyfriend's at the end of the episode. (Ally with Austin and Trish with Jace).
They were both worried about Austin (cause Brooke had kidnapped him) and went to look for him.
Trish texts Ally.
They were next to each other when Austin sang Upside Down and loved it.
They both wanted the part of Sleeping Beauty in the school play.
Ally (along with Austin, Carrie, and Dez) were really sorry for Trish that she was being bullied, and wanted to help her.
They both had parts in the play (Trish as Sleeping Beauty and Ally as tows folk #1).
Ally was worried about Trish when she was crying.
Ally called Trish beautiful.
Trish thanked Ally and smiled at her.
They hugged.
They also group hugged with Austin, Dez, and Carrie.
Ally put her arm around Trish and smiled at her when Austin dedicated and sang Superhero to Trish.
Trish told Ally that her album was being released the following week.
Ally gets very excited and hugs Trish.
When Austin hugs Ally, after saying he's very proud of her, Trish is very happy and says she loves that they're dating.
Trish told Ally about her record release party and Ally gets excited.
Trish puts the party together for Ally and she thanks her, whilst smiling.
They worked together to convince Lester not to sell the store (along with Austin and Dez).
Trish enjoyed Ally's performance of Parachute, (along with everyone else).
Trish texts Ally
They called each other beautiful just before leaving for the awards show
Trish asked Ally if she's okay that Austin was going to the WMA's with Jimmy instead of Ally
They jumped around when Ally said she's been nominated for the best debut album
They were sitting next to each other during the show
Trish started screaming when Austin and Ally finally admitted they love each other and kissed, showing she (and Dez) have been waiting for that to happen
They group hugged with Austin and Dez
They hugged.
Similarities
They're both a part of Team Austin.
They both have brown hair.
They're both have boyfriends. (Ally - Austin and Trish - Jace).
They're both girls
They both eat meat
They're both girly girls
They both went to prom and had dates to prom (Ally - Austin; Trish - Jace).
They both can dance
They both don't like wrestling
They both get married and have at least one child
They both have a daughter
Differences
Ally is a singer, but Trish is a manger
Ally's boyfriend, (Austin), lives in Miami, but Trish's boyfriend, (Jace), lives in Albuquerque
Ally's style in clothing isn't as loud as Trish's
Ally used to have stage fright but Trish didn't
Trish has a sibling but Ally doesn't
Aly won prom queen but Trish didn't
Ally has two children - a boy and a girl - Ava, and Alex - but Trish only has one child - a daughter
Gallery
| | |
| --- | --- |
| | To view the Trally gallery, click here. |