Hi Guyss!!! I'm From Turkey. I live in Turkey, but I Can Speak Englsh.:) I Love Auslly .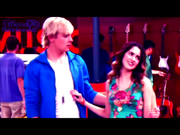 Riker or Ross?
We all KNOW that Ross Lynch likes Laura, but sometimes I get this weird feeling that.... Riker Lynch from R5 has a crush on Laura! I know it may sound crazy, but THINK THINK THINK about it... I mean its the way he looks and acts around.you guys may not feel the same way but I don't know it just popped into my head but i DO NOT ship it. Anyone plz Plz reply and tell me what you think ;) it's just a tv show that's acting  so slap your head and say told you so brain do you guys think ross lynch and laura marano should go out or riker lynch and laura marano and I mean come on age is overrated.
---
my name is Nadia I think Ross Lynch and Laura Marano and congratulations! Laura Marano for having a big screen role.
Countdown Error
I wasn't sure how else to address the error on the main page so here it is:
The countdown until the next episode "Videos and Villains" isn't spelled right and when you click it leads to the wrong page. 
Can an admin please correct this error?
Kaykay 101 (talk) 11:53, September 14, 2014 (UTC)
Why Why Why?
Sup guys! My name's Wanda. I live in the Philippines. My question to the writers,editors,and directors is why they'd cancel AUSTIN AND ALLY in the Philippines? I don't see it showing anymore in the Philippines even if I sleep late in the night just to see if it is showing, but it's not. 
P.S
please answer back or reply.;D
~Wanda~
Is It REAL or NOT?
OMG! I just saw a video it's called Ross Lynch e Laura Marano (raura) in youtube. So, I'm starting to think that maybe Ross Lynch and Laura Marano are dating for REAL! If they are, I have to say they hide pretty well, although why would they hide from their fans? I'm not lying, I have proof just watch the video and see for yourself. And there's even more! 
P.S
I'm not trying to be mean, but I'm just being honest.
P.P.S
It's in spanish so forgive me if u can't understand
~WANDA~
Community content is available under
CC-BY-SA
unless otherwise noted.