"
You Twitted a picture of a spider in Miss Suzy's Soups and now you're ruining her life! C'mon Ally, keep up!
"
"Soups & Stars" is the 12th episode in Season 1 of Austin & Ally. It first aired on March 25th, 2012 to 2.575 million viewers[1]
Overview
Trish is working her brand new job at Miss Suzy's Soups. Coincidentally, Trish's boss is also Ally's former teacher. A playful prank turns into a foul recipe for disaster when Miss Suzy's business starts to get lost because of Ally. Will our four heroes be able to recover the losses, or will Miss Suzy's Soups be doomed?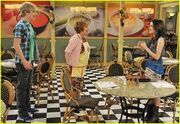 Episode Summary
After Dez shows off his thing for bigger props to his friends, Ally reveals she has joined a social networking website called Tweeter. Though, she does not have too many followers at first due to her more "serious" twits. In addition, Trish has gotten a job at Ms. Suzy's Soups, to which Ally and Trish's elementary music teacher owns. The foursome decides to visit Ms. Suzy at her restaurant.
At Ms. Suzy Soup's, Ally sees her three friends get gold stars from Ms. Suzy while she is the only one who doesn't get one. As said by Ms. Suzy, Dez finished his soup, Austin colored the picture on his placemat, and Trish has been improving at her job. Ally finished her soup as well, but only got the nutrition provided by the food. After eating, Team Austin decides to twit about the restaurant. Ally decides to twit about putting a rubber spider in an old bowl of soup called "spider-noodle soup", which gains her Tweeter popularity. She is amazed and happy when she gains 5,000 followers. But when her picture makes people stop eating at Ms. Suzy's Soups, she feels guilty about the incident. However, the situation worsens when people start to make parody pictures of it and post it online.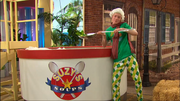 Having gotten the idea of making Ms. Suzy a commercial for her business from Dez, the gang decide to start working on one. Austin and Trish star in it, Dez films it, and Ally writes the jingle. When Ally finishes writing her jingle, she shows it to Austin and Ms. Suzy, who both think it should have been put together with simpler lyrics. That disappoints Ally, having her tell Austin that through her helping, she wants to be given a gold star like she always gives everyone else. Though Austin tries to tell Ally that it is no big deal, Ally doesn't quite get the message and ends up going a bit overboard with her plans and almost ruins everything for the commercial. This includes her trying to be a total perfectionist when things don't go the way she wants them to. Dez saves the day by editing her commercial to make it a hit when posted on her Tweeter account. 
Finally, when business is back successfully at the restaurant, Ms. Suzy explained she only gave gold stars to people that needed motivation. Ally never needed one; but to make her feel better, she gets a gold star from Ms. Suzy and is finally satisfied with herself. The next day, Ally arrives at Sonic Boom while Austin and Trish are helping film a Sonic Boom commercial with Dez. She was filling in for Trish, but when she arrives, she is completely covered, from head to toe, in gold stars, catching the others off-guard.
Memorable Quotes
Ally
What are you guys doing?
Austin
We're shooting a commercial for Sonic Boom.
Ally

My dad is paying you to shoot a commercial? In real money? 'Cause I got chicken fingers for allowance last week.
Dez
I'm doing it for free. I'm hoping when other stores see it, they'll pay me to shoot their commercials.
Trish

Whoa, you're actually doing work for free? You're supposed to get paid not to work. Have I taught you nothing?
Ally
My thing is twitting. That's right, I joined Tweeter. Ever heard of it?
Trish
You're just joining Tweeter now?
Ally
Yup, Ally Dawson is officially a passenger on the cool train. All aboard! Ah, woot, woot! [makes train chugging motions]
Austin

The Tweeter train left about two years ago. And apparently, it left you stranded there.
Trish
The radiant glow of a friendly smile warms a heart for a million miles. Is this a twit or your English paper?
Ally
What are you talking about?
Trish
Twits are supposed to be silly and fun.
Austin
You put way too much thought into your twits. Here, check out what I posted when I was eating pancakes with Dez.
Ally

"Eating pancakes...with Dez."
Ally
This commercial has to be perfect. Where are my actors?
Austin, Trish and Dez

Soup, soup, soup, soup, soup, soup, soup...
Ally
Stop it! It is more than just soup. I want a gold star!
Trish
Ally, I'll give you all my gold stars if you promise to calm down.
Ally
[pointing a giant spoon at her friends] I am calm! Now if this soup is gonna be right, I need to pull these wontons out, buy enormous noodles, boil them up, cut some giant carrots, and- (falls in)
Trish
Are you OK?
Austin
Ally?
Dez
Awesome!
Ally

Okay, maybe I do need to calm down a little bit. There's a wonton on my head, isn't there?
Songs Featured
Cast
Main Cast
Guest Cast
Trivia
Tweeter is a parody of Twitter.
Austin said "Do-Do" in this episode just like Sonny (from Sonny With A Chance) said in the episode New Girl.

Ms. Suzy was Ally and Trish's 3rd grade music teacher.
Trish was hired at Suzy's Soups.
This episode title refers to Suzy's Soups, the giant bowl of wonton soup and Ally trying to earn a gold star from Miss Suzy.
This episode got the lowest amount of views for Season 1.
This is the second episode where we meet a character from Ally's past (the first one was Bloggers & Butterflies).  
Goofs
When Ally tells Trish, Austin, and Dez that she joined Tweeter they act as if they didn't know she has it. However, when she posts her deep tweet she says she lost 3 followers. Trish, Austin, and Dez turn away awkwardly as if it was them but they weren't previously following her and wouldn't have had time to.
When Trish is showing Ally different pictures of objects in bowls of soup, it looks like Trish's thumb is on the screen of her phone, but when it actually shows the pictures on the phone, her thumb isn't on the screen.
Instead of freaking out when she saw herself in the commercial, Ally was happy that she saved Suzy's Soups.
Transcript
To view the Soups & Stars transcript, click here.
Gallery
| | |
| --- | --- |
| | To view the Soups & Stars gallery, click here. |
References