Sonic Boom Lounge
is an
Austin & Ally
game on the official
Disney Channel
website. There are 5 levels.
Synopsis
Make your own Sonic Boom Lounge the way you want to! Theme your studio, lay your tracks, and make some lyrics to go with it on the songwriter's notepad!
Steps
Theme
There are 4 different backgrounds to choose from for your theme.
Orange canvas with orange tinted instruments
Blue canvas with blue/white spotlight lines
Purple canvas with purple tinted instruments
Green canvas with green music sound bars
You can looks throught he choices using the arrow button on the sides. Click the background you wish to use.
Tracks
Once you are done picking the theme, go down and click "Lay Your Tracks". There is a guitar, bass, and drum, each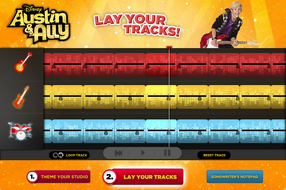 instrument can make five different sounds. The guitar is the red bar, the bass is the orange bar, and the drum is blue bar. You can go ahead and explore the different sounds to mix it into a cool track.
Songwriter's Notepad
You can print a songwriter's notepad. There are 4 different options. Each one says "Sonic Boom Lounge Songwriter's Notepad" at the top with the Disney Channel logo at the bottom. The Austin & Ally logo is also in the middle of the page, transparent so you can not see it too clearly. You can print these pages and go ahead and start to write the lyrics for your song!