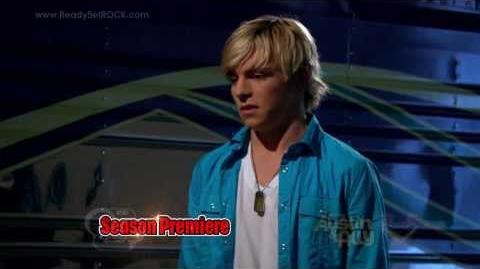 Season 3 of Austin & Ally was announced on March 12, 2013 at the Disney 2013 Upfront [1], alongside many other renewals. The cast and crew members then announced the news on April 2nd, 2013.
The full season consists of 22 episodes, bringing the whole series to a total of 67 episodes. The cast started filming on July 8th, 2013 [2], for the third season, which premiered on October 27th, 2013. The cast ended filming Season 3 on January 24th, 2014.
Plot
Big changes are on the way for Austin and Ally! Dez and Trish join Austin on his first big tour while Ally works on her new record.
Cast
Main Cast
Recurring Cast
Episodes
Image
No.
Ep.
Title
Original air date
Prod.
code
46
1
"Road Trips & Reunions"
October 27, 2013
301
After missing most of Austin's tour to focus on her music career in Miami, Ally longs for her friends and decides to catch Austin's performance in Portland. Ally barely makes it on time, and is now torn between continuing to work on her own music, or joining her friends for the last leg of Austin's tour.
47
2
"What Ifs & Where's Austin"
November 3, 2013
302
Austin goes to get breakfast burritos so Dez won't have have to cook again and make a horrible mess. As he is gone, Ally, Dez, and Trish all start to worry where Austin is, since he is taking a while getting breakfast burrito. As a result, Ally, Trish, and Dez begin to imagine what life will be like if the day Austin and Ally met happened differently.
48
3
"Presidents & Problems"
November 10, 2013
303
Following the last show of Austin's tour, the gang does some sight-seeing at a Washington D.C. museum, where Austin accidentally gets stuck to a priceless object and must find a way to return it before performing for the President.
49
4
"Beach Clubs & BFFs"
November 24, 2013
304
Trish gets jealous when she thinks she's being replaced by Kira as Ally's BFF.
50
5
"Mix Ups & Mistletoes"
December 1, 2013
310
Trish is organizing a Kids Club holiday party at which Austin and Ally will perform their original holiday song and distribute Austin Moon dolls, but a mix-up at the toy factory leads to a scramble. Meanwhile, Trish puts Dez and his arch nemesis, Chuck, through a competition to determine who will be a better Santa for the party.
51
6
"Glee Clubs & Glory"
January 19, 2014
313
After the tenor gets hurt, Austin joins Ally's glee club. But when he gets his own ideas on what the music should be, he forms a rival glee club. Will Austin and Ally be able to work together and win regionals? Or will they lose- not only the competition, but their partnership as well?
52
7
"Austin & Alias"
January 26, 2014
305
Ally takes on an alias in order to continue to be Austin's song writer.
53
8
"Princesses & Prizes"
February 9, 2014
306
Austin agrees to be auctioned off on a date to raise money for Ally's charity.
54
9
"Cupids & Cuties"
March 3, 2014
307
Trish is nervous about an upcoming visit from a boy she has a crush on and does not act like herself when he takes her out on their first date.
55
10
"Critics & Confidence"
March 16, 2014
308
Ally, Trish and Dez help relieve Austin from the slump he's fallen into after he receives his first negative review from a critic and is afraid to perform.
56
11
"Directors & Divas"
April 13, 2014
317
Dez gets an unexpected opportunity to direct a movie that Austin is in, but things prove problematic when he has to work with Austin's co-star, Brandy Braxton, a high-maintenance actress.
57
12
"Hunks & Homecoming"
June 22, 2014
311
When Ally's record producer pairs her with a new artist to record a duet, she is caught off-guard to learn he has a crush on her. From the looks of these episode photos, Austin isn't too happy with Ally's new duet partner.
58
13
"Fashion Shows & First Impressions"
June 29, 2014
312
When Dez offers to set Austin up on a blind date with Carrie's sister, Austin declines out of fear that she'll be too much like her sister.
59
14
"Fanatics & Favors"
July 13, 2014
309
Austin, Ally and Trish learn that Dez has an unexpected relative who is coincidentally a huge Austin Moon fan — not to mention that he's Dwyane Wade, former Miami Heat basketball player.
60
15
"Eggs & Extraterrestrials"
July 27, 2014
321
When Dez, Trish and Austin convince Ally to attend the annual Zaliens Convention that's being held in Miami, Trish and Dez happen to stumble upon real Zaliens and the foursome must devise a plan to survive.
61
16
"Proms & Promises"
August 10, 2014
315
When Ally and Trish insist that it must be memorable, Austin is unsure on how to ask Piper to prom; Ally is concerned that Gavin doesn't want to go to prom with her when he doesn't ask, and realizes he may not be the right guy. Meanwhile, when Jace breaks his leg, Trish goes to prom with Chuck so that she can win the dance competition.
62
17
"Last Dances & Last Chances"
August 24, 2014
316
Carrie threatens to tell her sister Piper, who is going to the prom with Austin, that he would rather attend the event with Ally. Meanwhile, Piper grows suspicious of Austin's relationship with Ally.
63
18
"Videos & Villains"
September 21, 2014
320
Austin disappears just before his scheduled performance on "Video Countdown Live." It's soon discovered that Brooke is holding him captive until he writes a song for her.
64
19
"Beauties & Bullies"
September 28, 2014
319
When Trish gets the lead role in the school play, she drops out when she learns someone is making fun of her online.
65
20
"Horror Stories & Halloween Scares"
October 5, 2014
318
When a power outage traps the gang inside the store on Halloween, they decide to tell scary stories.
66
21
"Records & Wrecking Balls"
October 12, 2014
314
Ally decides she's too busy with school and her career to work at Sonic Boom, so her father decides to sell the store.
67
22
"Relationships & Red Carpets"
November 23, 2014
322
Austin and Ally's relationship hits another road block when his music label forces him to hide their relationship from the public. Meanwhile, Dez contemplates moving to L.A. in an effort to be closer to his girlfriend and attend film school.
Trivia
Ross was not surprised with the way Season 3 kicked off. He tells M magazine, "No, the writers do a great job with the show and they always have fun twists and turns in the storyline".
Raini Rodriguez (who plays Trish) performed in two episodes of the season for the first time ("What If's & Where's Austin" and "Glee Clubs & Glory")
laura marano is mostly wearing extensions for this season
As of this season, there is no longer a Mall of Miami set. Instead, there is a beach club set with real sand.[3]

"Austin & Ally" Cast Reveals What's In Austin's Note (Sort Of!)

There are new recurring characters in this season. Jace, Trish's boyfriend, portrayed by Cameron Deane Stewart - from Pitch Perfect, and Carrie, Dez's girlfriend, portrayed by Hannah Kat Jones. Other characters are Gavin-Ally's ex-boyfriend and Piper-Austin's ex-girlfriend. (Gavin and Piper only appeared for a couple of episodes due to Austin and Ally only dating them for about 2 episodes).
During a live stream, Laura said that one of the episodes had some acapella, glee, Pitch Perfect type music and included lots of great guest stars. She was referring to the episode "Glee Clubs & Glory".
During the Cast LiveStream, Laura Marano accidentally slipped that What We're About is in the same episode NBA all Star Dwyane Wade is in.

Grace Phipps, Ross Lynch's co-star for Teen Beach Movie, guest-starred in Directors & Divas.
Calum Worthy (who plays Dez) also wrote an episode for this season; he wrote "Eggs & Extraterrestrials".
Mollee Gray made a background appearance in "Glee Clubs & Glory", who is another co-star of Ross Lynch's in Teen Beach Movie.
The Austin & Ally writers tweeted that Dez's last name will finally be revealed in this season. ("Fanatics & Favors").
Austin & Ally has been renewed for a Season 4 on April 25, 2014.
This is the first season that a cast member has written an episode for the show. (Calum Worthy)
Austin and Ally date in this season for about 6 episodes.
The series premiere is "Road Trips & Reunions", the final episode is "Relationships & Red Carpets".
This is the first season to last longer than a year.
The season finale premiered on November 23, 2014.
Gallery
References