Ross Lynch has won Kids Choice Awards 'Best Male TV Actor' 2013, 2014, 2015 and 2016!
| | |
| --- | --- |
| | This page was once a Featured Article! |
Ross Shor Lynch (born December 29, 1995) is an American actor, singer, dancer, artist, and musician. Ross is also in a band with his three siblings and their best friend. The band is officially named R5. One of his siblings (Eldest brother, Riker Lynch) has a minor role on the FOX hit series "Glee" as Jeff Sterling, one of the Dalton Academy Warblers. He was raised in Littleton, Colorado. He plays Austin Moon on Austin & Ally. He also starred in the DCOM Teen Beach Movie, which aired on July 19, 2013. He also starred in the sequel, Teen Beach 2, which aired on June 26th, 2015, in the US.
Early life and Family
Ross was born in Littleton, Colorado, the fourth of five children to Mark and Stormie Lynch. His siblings are named Riker, Rydel, Rocky, and Ryland.
He and his family moved to California in 2007 to allow his brother Riker to pursue a career as an entertainer. After the move, his brother Rocky taught himself and Ross how to play the guitar, and Riker to play bass while their sister Rydel began to play the piano. They soon made the band R5 with a friend they met at a dance studio, Ellington Ratliff, who plays the drums. They say Ratliff is like family and a brother to them. Their band's website is R5rocks.com. His cousin Will Buie Jr.
He is the cousin of professional dancers, singers, and actors Derek Hough and Julianne Hough.
Ross can play piano, drums, guitar, bass, ukulele, and is learning to play the violin. He has danced for the Rage Boyz Crew, a group founded by a dance company in Southern California. He has been on So You Think You Can Dance and has had guest appearances on shows like Moises Rules!, and can even be seen in movies such as Grapple, with Anton Troy. In 2009, he appeared in the Kidz Bop music video for "Hot n' Cold", "Let It Rock", "So What", and "Love Story". In 2010, Ross was featured as an extra in the Hannah Montana music video, Ordinary Girl.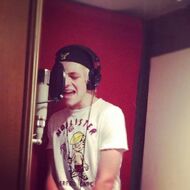 Lynch was cast in early 2011 to appear in the pilot for the Disney Channel entitled Austin & Ally, playing the lead male role of Austin Moon, a teenage singer who becomes an overnight sensation after a music video featuring a rocking performance by him is uploaded to the internet by his friend Dez, played by Calum Worthy. The pilot was later picked up for a full season's production; the show debuted in December 2011 and was renewed for a second season on March 2012.
In early 2012, Lynch began work on the upcoming Disney Channel Original Movie, Teen Beach Movie (Starring Maia Mitchell.) He is performing the role of Brady, the male lead in the film, which is directed by Jeffrey Hornaday and was released on July 19th, 2013.
Ross Lynch plays rhythm guitar and is one of the lead vocalists in the band R5 which also consists of his three elder siblings and a friend of theirs, Ellington Ratliff. In 2010, R5 released an EP titled "Ready Set Rock" consisting of songs written primarily by his brothers Riker and Rocky along with his sister Rydel. In April 2012, R5 announced via the band website that they had signed a record deal with Hollywood Records and that they are planning for their first club tour. It had been in May 2012. On February 19, 2013, they released a second EP titled "Loud".
Lynch has also recorded several songs for Austin & Ally. These songs include Heard It on the Radio, A Billion Hits, Not a Love Song, Illusion, Na, Na, Na (The Summer Song), Double Take, It's Me, It's You, Heartbeat, Better Together, and Without You (the theme song for the series). They also created a Shiny Money and Austin Moon Double Take (remix). A Billion Hits was released as a digital download on February 21, 2012. At some R5 concerts, full songs from Austin & Ally, (i.e. Heard It on the Radio, Double Take, A Billion Hits and Not a Love Song) have been sung by R5 and Ross Lynch. Most recently, Ross, along with Maia Mitchell, Spencer Boldman, and Bridgit Mendler went to Sydney, Australia for Disney Australia's Fanfest. Ross and Maia Mitchell promoted their film, Teen Beach Movie.
Filmography
| Year | Title | Role | Notes |
| --- | --- | --- | --- |
| 2008 | Macy's Passport Celebrity Catwalk Challenge | Dancer | Background Dancer |
| 2009 | "Little Miss Swagger" (Music Video) | Dancer | Background Dancer |
| 2010 | Grapple! | Aaron - Age 10 | Minor role |
| 2010 | Hannah Montana "Ordinary Girl" music video | A Student | Minor role |
| 2011–2016 | Austin & Ally | | Main/Lead Role |
| 2011 | Austin & Ally | Ralphie Hayes | Minor Character |
| 2011 | A Day as Holly's Kids | Holly's Actual Kid 1 | Short |
| 2013 | Disney 365 | Himself | TV series documentary |
| 2013 | Teen Beach Movie | Brady | Main Character/Role |
| 2013 | Doctors | Himself | |
| 2013 | Marvel's Ultimate Spider-Man | Jack Russell (aka Werewolf by Night) (voice) | Ep. "Blade and The Howling Commandos" |
| 2014 | Muppets Most Wanted | The Florist | Cameo |
| 2015 | Teen Beach 2 | Brady | Main Character/Role |
| 2017 | My Friend Dahmer | Jeffrey Dahmer | Main Character/Role |
| 2017 | Status Update | Kyle Moore | Main/Lead Role |
| 2018 - 2020 | Chilling Adventures of Sabrina | Harvey Kinkle | Major Role |
Awards and Nominations
Awards and nominations

Year
Award
Category
Nominated work
Result
2012
Teen Icon Awards[1]
"Iconic TV Actor"
Austin & Ally
Nominated
"Iconic Editor's Choice"
Hollywood Teen Awards[2]
"Favorite Breakout Star"
2013
Nickelodeon Kids' Choice Awards
"Favorite TV Actor"
Won
Radio Disney Music Awards[3]
"Funniest Celebrity Take"
Himself
Nominated
"Best Music Video"
Heard It On the Radio
Won

Teen Icon Awards[4]

"Iconic Male Star"
Himself
Nominated
"Iconic Movie Actor"
Teen Beach Movie
"Iconic TV Actor"
Austin & Ally
2014
Nickelodeon Kids' Choice Awards
"Favorite TV Actor"
Won
Teen Choice Awards
"Choice TV Actor: Comedy"
Won
Links
Cast Member's Opinion
"
Oh boy, what secret isn't there about Ross? He's totally an open book - he'll tell you everything! Well, let's see... even though he loves music more than anything in the world, he actually does enjoy doing school work. Education is really important to him. But one thing most people wouldn't know about Ross is that he's literally the sweetest person on earth! He does the sweetest things for us all the time. He has such a good vibe and is always smiling. Something really funny about him is that he has these adorable puppy-dog eyes that he'll try to use to his advantage. He'll say something like, "Can you please get me some water?" But I tell him no, it doesn't work on me! I know his tricks all too well!
"
"
I think I have some good secrets to spill! We're all a little crazy and have so much energy because we're constantly singing and having fun. But Ross is really friendly, confident and full of life. I'd describe him as a big, adorable puppy dog that you just love all the time because he's so sweet! Everybody loves the energy he gives off. That's what attracts people to him. But I have a really good secret about him. He doesn't like scary movies! He gets scared really easily, which is funny because Laura and I love them, and the boys don't. (Ross, I hope you're reading this right now!) Another funny fact is that he loves eating "Ice Breakers Sour Mints", and the entire cast is addicted now! We eat one after almost every take.
"
Courtesy of Tiger Beat Magazine
Trivia
His fan mail address is:
Ross Lynch
P.O. Box 280154
Northridge, CA 91328
Ross and his Uncle Shor were born on the same day, which is why his middle name is Shor.
He starred in a hit Disney Channel Original Movie, Teen Beach Movie.
He will return to film Teen Beach Movie 2 this Summer for it to premiere on 2015.
Ross says he loves how when the guitar is playing then the bass jumps in and he loves how the bass sounds.
PopStar's exclusive 2013, "Ross always dreamed of starting his own band and rocking out with his music".
He is in a band called R5, with his siblings and close friend.
His family tree in order: Mark Lynch, Stormie Lynch, Riker Lynch, Rydel Lynch, Rocky Lynch, Ross Lynch (himself), and Ryland Lynch.
His favorite A&A songs are Illusion, Na, Na, Na (The Summer Song), Double Take, Not a Love Song and A Billion Hits, revealed in one of Disney's "5 Faves".
Ross said when he was younger, he and his family would go down to the basement and dance on a checkerboard and have fun.
He had never been to Disney World until 2012.
According to sources, his favorite animal is a Siberian Tiger.
He really wants to go to Africa and the UK.
He is currently 6ft. tall.
He is a Capricorn.
He plays guitar, piano, bass, and drums.
He has three brothers and one sister.
He loves playing ice hockey.
He is the youngest of all the main cast.
He has an outie belly button.
He had his first kiss at age 13 on the set of a short film.
He used to be a singer in a group called "Kidz Bop", with Zendaya Coleman, and more.
His favorite color is yellow.
His birthday is exactly one month after Laura Marano's, his fellow cast member (November 29th and December 29th).
His favorite candy is Cadbury Easter eggs.
He has been dancing since he was about 5 years old.
He likes to draw and sketch.
His favorite movie is "Romeo and Juliet".
He has been playing ice hockey since he was 3 years old and once commented that if he wasn't an actor, he would definitely be a Hockey Player.
His favorite number is 32 because that was his first hockey number and if you add them together, you get 5, his family band's number.
Ross is passionate about music, playing music with his family band R5.
He is romantic and loves to watch romantic movies.
Ross can drive now because he just got his driver's license. He posted this to Twitter "I can now drive!"

His most common nickname (and his favorite one) is "Rossome".
He is now an official "Disney's Friends For Change Ambassador".
What Ross had to say about Austin (Courtesy "Disney Channel: Austin & Ally Rhythm and Moves Marathon"):

Similarities: "Austin and I are very similar. We both love having fun, we both love being on stage and we both really do care for our friends."
Differences: "I'm a bit smarter than Austin."

He and his family always go to Keystone, Colorado in winter for a family skiing vacation.
His favorite kind of pizza is Hawaiian.
He likes free running and Japanese chewing gum.
He is not picky about food. He'll eat anything as long as it's food. He once said, "I usually eat what the waiters suggest."

One of Ross' favorite movies is Avatar.
Ross' favorite song from Miley Cyrus is Party In The USA.
He had a two-page dedication in the Pakistani magazine Smash! (Issue: August 2012) and his song A Billion Hits was the song of the month in the September 2012 issue.
Ross said he is a sucker for chick flicks.
His favorite chick flick is The Notebook.
His mom, Stormie Lynch, does his hair.
He thinks of all of the Disney sets are like one big high school.
He is an adrenaline junkie.
He opened for the Shake it Up! Make Your Mark: The Ultimate Dance Off 2012, singing and dancing to Can You Feel It.
His father is a meteorologist.
Ross sang the song Christmas Soul from Austin & Ally 2012's Disney Parks Christmas Day Parade.
He has never had a serious girlfriend.
He took art lessons when he was 5 years old.
In December 3rd, 2012 Cast Live chat, Ross made a reference to 'greasers', which is from the novel The Outsiders by SE Hinton; suggesting that he has read the novel before.
He had a feature in Tiger Beat where his dad spilled all his secrets.
He made a Who I Am video for Disney.
He is known to have multiple talents.
He is scared to watch horror movies.
His single, Heard It On the Radio, peaked at #118 on US Charts.
The Austin & Ally Soundtrack, featuring songs from him as Austin and R5, peaked at #27 on US Charts and peaked at #1 for US OST and US Kids.
He was recently in a Danimals commercial with Shake It Up's star Bella Thorne.
Ross's co-star Laura Marano describes him as a sweetheart.
He drives a Prius.
His favorite song from Austin & Ally is Steal Your Heart
He listens to the band Switch Foot.
For his 17th birthday, his friends and family threw him a surprise party.
His first own birthday party ever was his 17th birthday surprise party.
He has an Instagram account, along with his siblings.
In one word, each cast member would describe him as a sweetheart (Laura) and crazy (Raini and Calum).
His favorite Trish costume was the "Cheese out of my league" costume
According to the rest of the cast, Ross says "whatever" a lot.
He has a hitchhiker's thumb.
He's obsessed with gummy bears.
He was Co-star Laura Marano's first kiss for the episode Real life and Reel life which was revealed by Calum worthy was a French kiss

He can make the platypus sound from Phineas and Ferb.
He wears Jean Paul Gaultier cologne.
He named his first guitar "Luna".
It is revealed in a Live Stream, that he prefers the night more than the morning.
He prefers tall girls to shorter girls.
He shares a bedroom with his little brother, Ryland.
He was afraid of Roller-Coasters until he was 13 years old.
His dressing room is in room 68.
His mother helped decorate his dressing room.
He is the volunteer for "Show Some Heart" campaign.
Ross was nominated for a Kids Choice Award 2013 as a Favorite TV Actor.
He was offered a solo record deal with Hollywood Records but quickly denied for R5.
He enjoys all school subjects, but his favorite subjects are Art and English.
Ross said he had a celebrity crush in the live chat but didn't want to reveal who it was because it'd ruin his chances.
In the live chat, Ross said that he has already graduated.
When he got questioned about who inspired him in the live chat, Ross replied to his family and gave a speech about why they did.

When asked to describe Australia in 2 words, Ross said that it was nonchalant awesomeness.
His favorite cereal box character, but his favorite cereal is Cap'n Crunch.
Ross's favorite meal is Breakfast.
Ross spilled to the Bop and Tiger Beat magazine that he'd pick Ryan Gosling if he had the chance to choose any actor to play him in a movie.
Ross would rather find true love than a million dollars.
His favorite word is "Awesome".
His bedroom is yellow. Ross even said that he sleeps with a yellow blanket.
Ross's favorite feature of himself is his hair.
Ross is obsessed with Cookie Dough Ice Cream. He also loves snacking on Cadbury mini eggs late at night.
His celebrity crush is Nina Dobrev.
Ross said he's the messiest of all his siblings.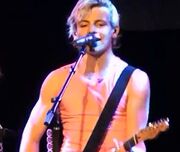 He has shoes, art supplies, skateboards and notebooks under his bed.
He brushes his teeth with Crest Toothpaste.
He has a pink ukulele with flowers on it.
He is in a relationship with Courtney Eaton.
He got his drivers license on February 12th, 2013.
Ross's worst injury was when he was playing ice hockey and his helmet fell off and then a skate came across his forehead.
His agent's name is Stella.
Ross's favorite quote that he came up with, is "Music is poetry with personality."
During an interview with Laura Marano on FOX, he jokingly called Austin "a player" when talking about the Auslly arc.
He thinks that a part of why Austin & Ally is so popular is due to all the music.
He won "Favorite Male Actor" in Nickelodeon's 2013 Kids Choice Awards and again in 2015.
He claims that family is extremely important to him.
When he was 13, he and other kids were in a video that showed how to do the panda dance from Kung Fu Panda.
His five favorite Austin & Ally songs from Season 1 are Na, Na, Na (The Summer Song), Illusion, Not a Love Song, Double Take and A Billion Hits.
In an interview, he revealed that the song stuck in his head is Limits of Your Love by James Blake.
Ross's favorite chewing gum is Japanese.
He is originally Dirty-Blonde.
He was playing hockey since he was 3 years old.
He won an award in Disney Music Awards.
Ross is trained in capoeira, a Brazilian art that combines martial arts, sports, and music.
Ross isn't overly keen on scary movies.
His siblings call him "Rossy Jersey Shor".
Ross claims he has never gone to the gym a day in his life.
He and R5 went to London UK on July 3rd and 5th, 2013, during their world tour, where he has always wanted to go.
His 5 favorite summer activities are surfing, hiking, football, skateboarding, and beach volleyball.
According to a magazine, he has 2 pet turtles.
According to a live stream, he has never seen The Hunchback of Notre Dame; in the same live stream, he admitted that he loves the song I Won't Say I'm In Love from Hercules. [5]
Ross has never asked a girl out before.
He thinks that Calum is the funniest guy he knows, though Calum calls Ross the funniest guy that he knows.
Although Ross can sing, play drums and piano, his favorite instrument is the guitar.
He describes his clothing style as "edgy".
He wants to get a dog, except his mom won't let him.
He has kissed Laura Marano.
Ross won the "Best TV Actor- Comedy" for the Teen Choice Awards 2014.
Ross will star as Brady again for the squeal to his movie Teen Beach Movie
Ross is Raini Rodriguez's teen idol. She said in an interview with Clevver TV.
He has won a Kids Choice Award for best male TV actor 3 years in a row.
He has his own wax figure, which is located at Madame Tussauds, Orlando.[6]
His brother, Riker, was first place runner-up on Dancing With The Stars in 2015.
He performed on Dancing With The Stars on the Semi-Finals Result Show with the cast of Teen Beach Movie 2.
Ross said that if he could take anything from the Austin & Ally set, it would be Austin's guitar.[7]
Gallery
| | |
| --- | --- |
| | To view the Ross Lynch gallery, click here. |
References