"
I'm gonna stay with you for the rest of the tour!
"
"Road Trips & Reunions" is the first episode of Season 3 of Austin & Ally and the 46th episode overall. It first aired on October 27th, 2013 to 3.283 million viewers.[1]
Overview
After missing most of Austin's tour to focus on her music career in Miami, Ally longs for her friends and decides to catch Austin's performance in Portland. Ally barely makes it on time, and is now torn between continuing to work on her own music, or joining her friends for the last leg of Austin's tour.[2]
Episode Summary
The episode starts out with Ally standing behind the counter of Sonic Boom; she is caught by surprise and happiness when she sees Trish and Dez in the doorway. She hugs both of them and tells Trish that, although she has written and completed 6 songs, she has failed to complete other songs. Right when she is about to name the cause, however, Austin calls her name. She says his name in awe; they then run up to each other before hugging and twirling each other. Lester then breaks her out of her trance; she realizes that the Austin she was twirling was really Frank the delivery guy. Lester discusses his concern over Ally's hallucinations -- she dismisses them at first, but then she sees Austin in a Tim's Square Pizza delivery outfit, Austin as one of her students, Austin as an elderly lady and even her own dad -- and Ally sadly agrees.
Meanwhile, Austin is not doing any better -- after finishing up one of his shows, he thinks that he sees Ally and runs up to hug her, but it is really a security guard. Later on, Ally talks to them via mobile devices and, after a bit of coaxing and eloquence, Ally agrees to visit them for the weekend in Portland to watch Austin's next concert. She gets out at the wrong airport, however -- since she goes to Portland, Maine, while Austin, Trish and Dez are in Portland, Oregon -- but manages to raise enough money by performing an acoustic version of The Me That You Don't See.
Meanwhile, when Dez rushes into the bathroom before Austin, Austin sleepily goes to the bathroom at the rest stop. He accidentally goes onto the wrong bus, as Ally, Trish and Dez discover when they try to surprise him with Ally's early arrival. After doing favors for the Buttercups, Lulu lets Austin use his phone, and he arranges to go to Washington and meet up with them. However, he ends up in Washington, D.C., while his friends are in Seattle, Washington. By the time he arrives, he is twenty minutes late for his concert. He gives Ally a big hug, and it takes Trish to break them up and get him performing.
He stops his show twice -- both times to discuss with Ally how she has to go to a meeting with Ronnie Ramone on Monday -- before Ally finally says that, since Austin is a good influence on her song writing, she can reschedule the meeting so that she can arrive with finished songs. They hug again before Trish reminds Austin that 10,000 fans are waiting for him to perform.
At the end of the episode, Trish, Austin and Dez wake up and open the curtains to Ally's bed -- and promptly discover that Lulu the Buttercup has taken her spot. Meanwhile, Ally finds herself on the same bus as the rest of the Buttercups.
Memorable Quotes
Trish: Nobody's seen him. I've looked everywhere. He's not here.

Ally: So he just left his phone on the bus and disappeared?
Dez: Found 'em!
Ally: Where is he?

Dez
: Who? Austin? I have no idea where he is but I found Crunckins.
Trish: *phone rings* Ally, where are you?
Ally: I just got off the plane. Where are you guys?
Trish: We're by Gate 27.
Ally: Me too. I don't see you.
Dez: *gasp* Like your song! *sings* We're at the airport, but you don't see me! You got off the plane, but you don't see me!
Trish: Stop it.
Austin: I don't get it. How could we be at the same gate and the same airport, and not see each other?
Ally: 'Cause, maybe we're not at the same airport? Which Portland are you in?
Austin: Portland, Oregon.
Ally: I'm in Portland, Maine.
Austin: There are two Portlands?

Ally
: We're 3,000 miles apart.
Ally: I finally realized why I've had so much trouble finishing songs. I need someone to bounce my ideas off of. I need inspiration. I need you.
Austin: That means a lot. I'm gonna miss you.
Ally:Austin, Wait, I was thinking. What's the point of going to a meeting with a bunch of unfinished songs? Wouldn't it make more sense to reschedule the meeting, and come in with finished songs?
Austin: Yeah, it makes sense to me. Well, see ya.
Ally: No, wait, Austin. I want you to help me finish the songs. I'm gonna stay with you for the rest of the tour.
Austin: Yes! *hugs Ally*
Trish: walks over and clears her throat twice before pushing Austin and Ally: I hate to break this up again but ten thousand people are kind of waiting for you.

Austin
: Oh right.
Ally: I don't see him.

Trish: You don't think he missed his flight?
Dez: Found 'em!
Trish: Where is he?
Dez: Oh, not Austin. Flame-O's, the world's hottest cheese-puffs. You can only get these in airports. Dez tastes one and his mouth catches on fire.
Ally: her phone rings Austin? Dez, shush! Go ahead Austin. Yes, Dez finally found Flame-O's. Where are you?
Austin: I just got off the plane. Where are you guys?
Ally: We're by the arrival gate.
Austin: I don't see you.
Ally: You're in Washington D.C, aren't you?
Austin: Yeah why?
Ally: We're in Washington State.
Austin: There are two Washingtons?! Why do they keep doing that?
Ally: I can't believe we're 3,000 miles apart again. This stinks. By the time you get here, we'll only have a half-hour together.
Austin: I don't care how much time we have. I just..wanna see you.
Ally: I just wanna see you too.

Trish
:
takes the phone from Ally
You know who else wants to see you? 10,000 fans who bought tickets for tonight's concert. You better be on the next flight. You're supposed to be on stage in 8 hours!
Austin: Ally, I'm only gonna be on tour for a few more days. Maybe it's time for you to use that thing.

Trish and Dez: What thing?
Austin: The thing I put in the card I gave her

Trish and Dez
: The thing that you put in the card you gave her?!
Songs Featured
Cast
Main Cast
Recurring Cast
Guest Cast
Trivia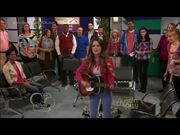 This episode began filming on July 8, 2013. [3]
In the scene where Ally played guitar Ross, who plays Austin, taught Laura who played Ally how to play.
It is the only new episode to air in October 2013 and during Disney Channel's Monstober.
It is revealed that Austin put a plane ticket in the card he gave Ally so she can meet them on any part of his tour. 
Dez made a parody of You Don't See Me sung by Ally.
This is the second episode that has Ally playing the guitar. The first was Bloggers & Butterflies.
This episode is the second to prove how bad Austin is at Geography, the first being Tunes & Trials where he did not know there was a North Dakota and a West Virginia.
Since it's season premiere, character's hair changed: Ally's hair is straighter and doesn't fringe so much, and the blond highlights are darker and more faded. Also, Austin and Dez have shorter hair, and Trish has longer hair.
Even though this was the Season 3 premiere there was no change to the theme song video.
Ally imagined Austin as:
"Tim's Square Pizza", from "Big Dreams & Big Apples", make a sort of second appearance by a pizza boy when Ally was imagining Austin.
Transcript
To view the Road Trips & Reunions transcript, click here.
Gallery
| | |
| --- | --- |
| | To view the Road Trips & Reunions gallery, click here. |
References