Fan Page

This article is just a fan page. It is a part of the Austin & Ally fanbase all based on information from the series or cast and crew.
"
Me and Laura are super close friends and everyone on set will tease us like, 'ohh Raura's on set!' So It just becomes a joke. It's never awkward with me! Laura tends to get a little awkward sometimes, but that's okay - it's cute, It's funny.
"
Raura

Information
Cast Shipped
Status

ex- girlfriend and boyfriend, possible crushes, co-stars, best friends, ex- crushes

Rivals
Raura (R/oss and L/aura) is the real-life pairing of Ross Lynch and Laura Marano. They appear to be very close friends and possibly might have secretly dated as they showed many hints that they did, and they are very comfortable with each other. They are good friends, because through different interviews they are teasing each other, joking around, and neither of them mind doing romantic scenes together. This pairing also seems to be the most popular and most loved real-life pairing in Austin & Ally and the most loved real-life pairing in Disney Channel tv shows
For the in-show pairing between Austin Moon and Ally Dawson, the characters Ross and Laura portray, see Auslly.
Relationship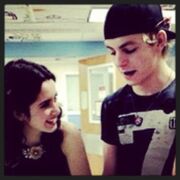 Ross and Laura have a close relationship. They seem to be very comfortable around each other. They both are pretty different, but that's what makes them best friends. They tend to tease each other a lot during interviews, videos, etc. Ross has said that him and Laura have such a great relationship that she will often try to set him up with other girls. Ross and Laura both said that they want Austin and Ally to end up together and Ross said that the kiss was good multiple times. Ross once said when Laura and him do a Auslly moment sometimes it is real and it isn't acting.
Other Names
"*Rossaura*"(Ross and "L"/aura)
Loss (L/aura and R/oss)
Rura (R/oss and La/ura)
Lass (La/ura and Ro/ss)
Rora (Ro/ss and Lau/ra)
Laro (La/ura and Ro/ss)                        
Laross (La/ura and Ross)
Lauss (Lau/ra and Ro/ss)
Rolaur (Ro/ss and Laur/a)
Rolaura (Ro/ss and Laura)
RLLM (R/oss L/ynch / L/aura M/arano)
Lyno (Ly/nch and Mara/no)
Larano (L/ynch and M/arano)
Lyrano (Ly/nch and Ma/rano)
Lyncho (Lynch/ and Maran/o)
Lyano (Ly/nch and Mar/ano)
Chano (Lyn/ch and Mar/ano)
Maranych (Mara/no and Ly/nch)
Rosura (Ros/s and La/ura)
Rosa (Ros/s and Laur/a)
Rosra (Ros/s and Lau/ra)
Rosaur (Ros/s and L/aur/a)
Rass (R/o/ss and L/a/ura)
Lynchano (Lynch and Mar/ano)
Shorie (Sho/r and Ma/rie)
Raura Moments
When on ClevverTV, at different times, when the person mentioned Auslly, Laura blushed, and Ross looked up and blushed a bit, as well.
In many interviews ross starts at Laura with his according to him his "lovestruck face"
Laura called Ross a sweetheart on a taping of a webcast and Ross called Laura "adorkable".
They went to the Disney's Friends for Change Youth Summit together.
They sang a love song together that WASN'T for Austin and ally they sang it together for fun
In an interview with R5 the interviewer asked about Raura and ross aid "it's to b expected" as in it portably might happen
Ross said that rehearsing raura scenes feels like something more than acting
Laura and ross whore matching halloween customes
Ross and Laura both won kids choice awards in 2015 ross won best tv actorr and Laura won best tv actress
She R5 was preforming and answering fan question, a fan asked if Rydellinton (Rydel and Ellington) was real and Ellington responded saying "No Rydellington is not real but raura is " and ross never said he was right or wrong he just blushed
In an interview with R5 the interviewer asked if raura was real and Ellington responded with "do zebras exist" this means raura is real or it was just a joke from the episode where Austin dan Dez didn't believe in zebra's
ross kissed Laura's forehead at a live taping in November when filming season 4 off-screen (a fan caught him doing it and took a photo)
Laura kissed Ross's cheek (extremely close to his lips and it was possible she did kiss him on the side of his mouth when she did)
Laura admitted in an interview that ross would randomly kiss her cheek and she would too
At a live taping in January where dove and Ryan guest starred in when they weren't filming yet dove said "he can't know there together yet" a fan who caught then saying this asked "who are together" dove pointed her fingers at ross and Laura basically confirming that there in a relationship but secretly (Disney makes there Starrs keep there relationships a secret).
At a live taping once ross and Laura where cuddling on the couch.
Ross and Laura both have 'Walk the Moon' jumpers but in a photo that ross posted on instagram Laura was wearing her jumper but it looked bigger than usual so it was most likely his jumper
When the A&A cast went to hang out at the mall it was December 15th 2014 the same day ross tweeted 'you can never tell a loved one I love you enough' possibly about Laura
Ross and Laura sat next to each other by themselves at the bad hair day premier (Calum and Raini where sitting across from them)
at a r5 concert that Calum and Laura went to Calum made filmed Laura screaming "I LOVE YOU ROSS LYNCH" Which he posted on his vine
At a r5 concert that the Calum Laura and Raini attended, while Riker was still talking to the crowd of fans Laura blew ross a flying kiss and ross catches it and winked (Laura calum and raini were backstage)
At a R5 concert a fan asked ross what his favorite Austin and ally episode was and he responded with "Real Life & reel life" the first real raura kiss (the first one in chapters and choices was not a real kiss). Rydel than whispered something in ross's ear and asked if it was about the kiss and ross just looked up and blushed
When Ross was asked if he liked Laura romantically, Ross responded with "I'm not going say yes or no"
Ross taught Laura how to play guitar
The first time ross went to disney land was with laura
Laura and ross went to Kansas to lunch together before
in the episode chapters and choices when ally got over her stage fright you can see Laura wearing a necklace that says ross on it
Laura has Ben caught wearing a necklace that has the letters "L and R" shaped as a heart which are the initials of Ross and Laura
in an episode Laura is caught wearing an R5 ring, and in a photo of Ross and Laura ross is caught wearing the same ring
ross and Laura have Ben caught wearing each other's jewelry on screen and off screen
In an interview ross accidentally kicked Laura's plastic water bottle and they both picked it up when they did their hands touched and looked at each other and blushed
On twitter in 2014 a fan tweeted "is it weird that austin and ally aka ross and Laura remind me so much of Kristoff and Anna" Laura responded and said how it was the biggest compliment her life
According to ross rocky often teases ross and Laura saying that there going to get married one day.
When Garret, ross's co-star tweeted a picture to of him (garret) and Laura ross unfollows garret. When they started filming teen beach movie 2 garret told ross their was nothing to be jealous of and had to clear things up with ross telling him that him(garret ad Laura where just friends. ross followed garret after that

They went to the Chimpanzee premiere together.                          
They went to the Muppets premiere together.
Ross helped Laura do her make-up.
Ross visited the bad hair day set a movie Laura was starring in and brought her flowers and gogurt
Ross tried to encourage Laura to get on Twitter (which she eventually did).
In an interview, when Laura says her favorite food is "go-gurt", Ross replies "It's all she eats", meaning he

knows a lot about her.
Ellington (one of ross's bandmates) said that ross had a crush on Laura and ross didn't deny it
Laura described Ross in an interview saying, "I can read him like a book. I know all his tricks".
Laura describes Ross has "adorable puppy-dog eyes" but says they don't work on her, implying she knows him well enough to know that about him.
They are now both working together on a project for Disney's Friends for Change, which they are both ambassadors on.
They have fun together.
They went to Kansas City together to take pictures and sign autographs with fans. 
They both love an adrenaline rush.
They're hopeless romantics.
They dressed up as Fred and Ethel which is a married couple from I Love Lucy!
In an NBT Behind the Scenes video, Ross and Laura were both mentors, and at :30, Ross puts his arm

around Laura.
In the same video, Ross and Laura high five each other a couple of times.
At the end of a live taping, when they were taking pictures with fans, Ross said to Laura that she scratched her arm on the Austin and Ally sign, and he sounded caring.
On the live stream, Ross called Laura "adorkable".
They recorded a love song together
On the live stream, Laura called Ross a sweetheart.
Ross was VERY jealous when Calum and Laura made a joke about " Laura Worthy" because he looked depressed and jealous at the joke
Laura kept looking back at Ross on the live stream.
In the live stream, Pixie got in front of the camera, and Ross said: "Well, now you can't see Laura!"
Ross seemed very jealous/frustrated when Raini and Laura thought Raura meant them.
Ross said Raini and Laura were totally joking when they thought the pairing name Raura meant them.
On the live stream, Ross said Auslly & Raura.
Laura's first kiss wa ross for real life& reel lie on valentines day
In the live stream, Ross and Laura would look at each other like they were in love.
After a live taping when taking photos with fans, Ross attempted to tickle Laura. This was proven by a video as Laura said: "Don't tickle me!"
According to a website, Ross and Laura will be on Sydney hosting the Meet & Greet.
Laura was ross's date to the 2013 Disney prom
After filming the scene where Austin gives ally a piggyback ride because of her crystal shoes, ross and Laura stayed in the same position going around the set until Laura thought she was to heavy
Ross took the cast to skate once but Laura kept falling so ross had to stay with her the whole time
When it was twin day Laura decided to twin with heath but she had to borrow ross's shirt
In one picture from a live taping ross had a handmade flower and was proposing to Laura (with the flower)
Ross was one of the first people that Laura followed on twitter
Just like Austin and Dez Laura and ross have there own handshake
It was rumored in a magazine that when Ross was filming Teen beach movie in Puerto Rico ross and Laura texted each other nonstop
During a live interview (curtain call) ross and Laura where holding hands
According to ross, Rydel (ross's sister) she teases ross whenever there is an auslly scene and wants ross and Laura to be together in real life

At the Austin & Ally, Charades Marathon Ross & Laura were sitting really close to each other.
Ross and Laura will be doing a Live Chat on Thursday, February 21st.
According to a Tweet, Laura went to the beach (in Australia) with Ross and Stormie.
Ross said in the live chat that he has a whole set of jokes he calls "Laura Jokes" just to make her laugh and please her.
Laura said she liked many things about Ross and said a lot of stuff that she liked of him in the live chat.
Ross said he loved Laura's nice personality in the live chat.
Ross said in the live chat that he wished that little boys asked him to tell her that they liked her and he said that it would be awesome.
In the live chat, Ross told Laura she was a great dancer although Laura argued that she wasn't.
Laura kept saying she didn't want to do the Australian accent in the live chat, and Ross said that everyone would love it and that she's amazing at it, in a meaningful voice.
They both love writing.
They were both wearing blue in the live chat.
They like to joke around a lot with each other.
Ross told Laura that her Australian accent was amazing.
Laura described Ross as a sweetheart and talented guy.
Ross called her interesting.
They are always standing or sitting extremely close to each other.
During the second half of the Charades Marathon, they were a team.
Laura's nail polish has matched Ross's shirt several times.
In an interview on Fox and Friends, Ross and Laura's hands touched and they were smiling a lot at each other.
Laura said that she and Ross are very close.
In the Hanging with Austin & Ally (premiered in Australia) Laura lost one of the challenges and Ross felt bad so he said, "I'm sorry, here give me a hug."
Ross talked about the Austin & Ally kiss on an interview with Bop and Tiger Beat, and he said the kiss wasn't awkward at all because he and Laura are such good friends.
Ross tells Laura jokes just to please her.
Ross was overheard by a fan at the R5 concert and he was talking about how "amazing" Laura is.
In many interviews with Ross and Laura, Ross is seen staring at Laura the entire time like he is in love with her.
A fan gave a fanny pack to Ross to give to Laura and he smiled about it.
Recently the A&A cast has been hinting "Raura" a lot via Twitter and also Ross mentioned it at an R5 concert.
 When Ross and Laura were at a meet and greet in Sydney a fan gave Ross a drawing up the Auslly hug from  "Successes & Setbacks" and he looked at it for a while and smiled.
At a meet and greet in Kansas, Ross was seen with his arm around Laura even when they were not taking pictures.
At one of the live taping of A&A, a fan said that she heard Ross yell as if he had the greatest idea ever and that idea was for Ross and Laura to hug each other while Joe (one of the A&A writers) goes crazy with Auslly feels. So Ross had his arms around Laura's shoulders and Laura had her arms around Ross's waist.
Ross and Laura joke around and have fun on the set together.
At another live taping of A&A, it was looking as if Ross was trying to flirt with Laura and he scootched really close to her.
They both have no clue what personal space is or even means!
Raini tweeted that the cast was going to eat out for lunch and she tweeted a picture of all of them in the car on there way there and Ross and Laura were in the back seat alone sitting next to each other.
Another picture was posted on Twitter where Ross and Laura were in the back seat of a car again sitting next to each other.
In one picture from a live taping, Ross had a fan-made flower and was proposing to Laura.
In a video that an audience member posted on YouTube of the live taping Ross and Laura were waiting to be called out to go out and be applauded and it the corner you can see them hug, Laura fixes his hair, and they were (supposedly) holding and swinging there hands.
Ross used a pickup line on Laura while in Tennessee.
Ross and Laura went to Tennessee to attend a meet and greet together. 
Ross was staring at Laura several times during the meet and greet.
Also during it, Ross put his arm around Laura's waist while she was talking to a fan and she blushed then started laughing.
They were standing very close though out the whole thing.
Ross and Laura both went to a kid's hospital to meet fans.
During every taping of Austin & Ally, Ross and Laura are always goofing around with each other, practicing together, and playing on the piano together. Along with whispering into each other's ears.
When Ross and Laura were visiting the sick children in the hospital Laura blew a patient a kiss and Ross

caught it.
At the meet and greet in Tennessee, Ross's hand was on top of Laura's and vice versa about 10 times.
During the meet and greet Ross was playing with Laura's hair.
Ross hugged Laura with a few fans.
Ross put his arm around Laura before taking a picture with a fan and Laura also put her arm around his waist at the same time before a picture was even being taken several times.
Ross looked at Laura's hand and placed it on his face.
There are a lot of pictures of Ross and Laura touching each other's hands.
After Laura was asked to the prom, Ross retweeted a fan's tweet "@rockyR5 @rikerR5 @ratliffR5 @rydelR5 and @rossR5 are way better than prom."
He also tweeted "I just want someone to hold on to and a little of that human touch. -Bruce Springsteen Basically my life right now..."Considering the prom ordeal and his retweet, it may have something to do with Laura.
When Laura and Ross where being interviewed Laura mentioned her prom when Laura was finished talking ross said his favorite son was " when I was your man"

In this interview [1], Ross says that kissing Laura was like "Hollywood Magic".
After Ross found out about Laura's prom date, he said his favorite song was "When I Was Your Man" by Bruno Mars in an interview, which may have something to do with the prom situation.
They did a segment of Disney Tryit "The Chew". [2]                                  
Ross said Laura's nickname, L-Dog was weird and smiled at her.
Ross jokingly said that Laura wasn't a better dancer than her character role, Ally.
Laura attended the final concert for the R5 "LOUD" tour May 19, 2013.
In this video [3], a fan asks Ross if Laura was single and he said she is while smiling.
Ross knows what Raura (is and means) and (maybe) Laura does too.
Stormie Lynch (Ross's mother) tweeted that her favorite TV pairing was Raura.
In this [4], all the other couples' faces got swapped except Ross and Laura are not a couple.
According to a J-14 interview [5], Ross said he'd date Laura Marano.
In this interview [6], Laura was asked if she would consider dating Ross, and she said she's also considered dating George Clooney, so she technically said she would date Ross Lynch by saying "also".

Laura was smiling when saying "Raura" while giving shout-outs to fans.
Laura kept repeating that she and Ross are just friends and that he's a good friend of her's.
According to a magazine, Ross was talking about Laura's wardrobe and how it used to be a nerdy goody two shoes school girl but now it's sexier.

Someone asked R5 how they know if Ross has a crush on a girl and Ellington Ratliff showed a pose that he does and in lots of pictures, Ross does the pose on Laura.
A magazine said that when Ross and Laura are together, they can't stop laughing.
In this picture [7], Ross looks jealous of the cardboard cut-out of Laura Marano and George Clooney.
Laura tweeted to a fan that she wanted Ross to carry her all around the set but felt bad that Ross had to carry her.
Ross said in an interview that he and Laura are like a married couple and "argue a lot about who is always right. That happens a lot on set. We're really friendly, help each other out, and have each other's backs on set."
Laura said in an interview that she and Ross fight like a married couple, which she agrees from Ross's previous comment on their relationship is like a married couple.
Ross and Laura took over Radio Disney, again, on October 25th, 2013. 
Ross said that the kiss from Real Life & Reel Life was good...three times.
A fan on Twitter asked Laura was it awkward kissing your co-star while dozens of people are watching, and she said that it actually wasn't.
Laura tweeted Ross a happy birthday on his 18th birthday.
Laura tweeted a picture of the Turn It Up vinyl record and you could vaguely see the R5 vinyl record that Ross gave to her and signed it.
They hugged at the 2014 Radio Disney Music Awards.
On Twitter, a fan posted a drawing of Austin and Ally kissing and Laura replied "awww it's cute"
Laura and Ross "coincidentally" match outfits at red carpet events, including both the 2013 and 2014 Radio Disney Music Awards.
Laura made an unexpected surprise by attending R5's concert in New York City.
Laura said that she misses Ross while he was on tour.
In the backstage, Ross and Laura took a photo together and posted it on @officialr5's Instagram. [8]
Ross revealed during an R5 concert that for a future Austin & Ally episode, he and Laura really kissed even though they were told not to. He was either talking about Last Dances & Last Chances or Relationships & Red Carpets.
They have kissed in the episodes; Real Life & Reel Life, Last Dances & Last Chances, Relationships & Red Carpets, Wedding Bells & Wacky Birds, and in Karaoke & Kalamity.
As seen here, Ross pulled Laura close to him, whilst his arm was around her. Laura rested her head on Ross' shoulder as if they were a couple.
Laura had called Ross her "TV boyfriend".
On Ross's 24th birthday, Laura tweeted: "Happy birthday to a guy I've known for almost a decade!!! Maybe I'm sentimental bc it's the end of the year/decade, but meeting and working with you (as well as the others in these photos) changed my life this decade, & I hope you have the best year yet :)"
Similarities
They both love to perform music and shows.
They both have siblings in the acting industry: Ross's older brother, Riker, plays Jeff Warbler in Glee, and Laura's older sister, Vanessa, who plays Bay in Switched at Birth.
Both Laura and Ross seem very interested in helping kids and the planet through Friends for Change.
They both have verified Twitter accounts.
They are both born on the 29th. Ross was born on December 29th, and Laura was born on November 29th.
They both are actors.
They both star (and are the main characters) in Austin & Ally
They both have older sisters.
They both can play the piano.
They both said they hang out a lot.
They said "Austin & Ally" is the best show ever.
They love all episodes from Austin & Ally.
They love the word Awesome/Rossome.
They both gave advice to the N.B.T season 5 contestants together.
They both say it's important to have an education.
They both are too busy; Ross with his band and Laura with her school.
They both have had songs on Disney derived albums.
They were both in short films (Ross- Queen of the Hammer) (Laura: Goldfish)  
They both have "Who I Am" videos on Disney.
They both have favorite colors that are very close to the color Orange.
They both have friends who ship them together.
They both agree Austin and Ally should be together. 
They were both born in 1995.
They both have Keek accounts.
They both ship Trez.
They both have "Walk the Moon" jumpers (Laura got hers from a fan).
They both agree on behaving like a married couple.
They both did "This Is Who I Am" videos for Disney Channel. 
They both have graduated high school (even though Ross is homeschooled)
They have kissed each other multiple times. For the episodes, Chapters & Choices, Real Life & Reel Life, Last Dances & Last Chances, and Relationships & Red Carpets, Wedding Bells & Wacky Birds and Karaoke & Kalamity.
They were both nominated for the 2014 Teen Choice Awards. Ross for Choice Comedy Actor and Laura for Choice Comedy Actress.
Ross and Laura have both met The Vamps. R5 collaborated with them on stage and also had some interviews with them, whilst Laura was the lead role in their music video for 'Somebody To You'.
Trivia
Song
The Raura songs are possibly:
"Here Comes Forever" by R5 - The song is a lot like the raura relationship example being when ross sang "in the movie when we kissed" just like how ross and Laura shared there first kiss in the rockumentary and when ross sang "playing roles of a life time we can even write the ends" when he sang roles of a life time it was like their roles on A&A and ross and Laura have some unscripted lines that they said just to make the scene funnier. This is also Laura's favorite R5 song
"When I Was Your Man" by Bruno Mars - Ross said he liked that song. (He said it was his favorite), and it also fits them together. (Kind of, because of the prom situation).
Another Raura song could be "I Think About You" from Partners & Parachutes which Ross sang to Laura for the scene in that episode.
The song "Stuck on You" Ross sang it to Laura (while acting Austin and Ally) from episode Critics & Confidence.
"One Last Dance" by R5- Before singing the song he said "this is for someone in Cali" and the crowd screamed Laura's name and Ross smiled and nodded, meaning he sang it for Laura
Color
The Raura color is probably orange because Ross' favorite color is yellow and Laura's favorite color is red, and if you combine yellow and red the result will be orange. Also, they were once seen wearing orange together by a fan.
Animal
Laura and Ross's animal should be a dog because they both like dogs and people say Ross has a puppy-dog eye. Also, Laura had a dog and maybe she still has it.
Gallery
| | |
| --- | --- |
| | To view the Raura gallery, click here. |
Video Gallery