"
We can auction off a date with you!
"

— Ally to Austin
"Princesses & Prizes" is the eighth episode in Season 3 of Austin & Ally and the 53rd episode overall. It first aired on February 9, 2014 to 2.708 million viewers.[1]
Overview
Austin agrees to be auctioned off on a date in order to help raise money for Ally's charity. [2]
Episode Summary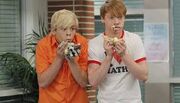 The episode begins with Ally who wants to do a charity by selling cupcakes, but Austin and Dez eat them all. In order for them to make up the money, Ally has an idea: to auction a date to spend with Austin along with a bunch of other Austin Moon merchandise.
At the auction, Brooke is there, and in the beginning, has the highest bid for the date with Austin. That is, until a beautiful girl named Chelsea bids higher, so she wins instead. This makes Ally get jealous, so she attempts to spy on the date they go on, having Dez with her to ensure that she doesn't come off as suspicious.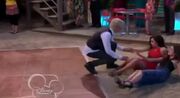 During the date, Chelsea and Austin are dancing, talking, and laughing while Ally and Dez are dancing (doing the salsa, specifically). Ally is extremely jealous and keeps trying to dance closer to them. To really get Austin's attention, Dez does a dance move with Ally where he throws up into the air, and then she falls right on top of Chelsea. Austin asks if she's okay and Ally says that she's fine, but he was really referring to Chelsea who is also fine. At the end of the night, Ally only hopes that maybe they won't go on a second date.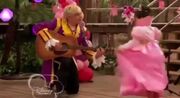 At what Ally assumes to be on a second date, Chelsea and Austin are at Chelsea's little sister's birthday party dressed up as a princess and a prince. After, once again letting jealousy get to her, Ally starts running towards them. But it stops when Brooke is furious and both combine a disaster, destroying the table of food. Heidi, Chelsea's sister, says her party is ruined. Though everything eventually gets sorted out. Ally apologizes to Heidi, realizes that the party is not a second date, and admits to Austin that she was jealous of Chelsea. However, Austin tells her that he would have been jealous too if the roles were switched, and the two realize that if they're not going to be together, then it's simply a matter of time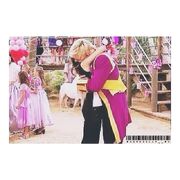 before one of them meets someone else. They only want the other to be happy.
In order to make it up to a sad Heidi, Austin decides to sing an acoustic version of Upside Down to which everyone, of course, enjoys.
At the end of the episode, Austin and Ally and Trish and Dez are shown to be dancing with each other back at Shredder's Beach Club.
Memorable Quotes
Ally: I get it! She has good skin.
Dez: Ooh, jealous much?
Ally: I'm not jealous. I just get this weird, burning feeling in my chest every time I think about Austin with another girl.

Trish
: Yeah, that's jealousy.
Austin: Wow, you're a good dancer and you play football? Isn't she great, Ally?
Ally: Yup, greaty-great-great. [to Chelsea] Wow, you really do have flawless skin.
Chelsea: Me? Look at you, you're so pretty.
[she and Austin walk away]

Ally
:Ugh, she's nice too. I really wanted to hate her!
Austin: Well, if we're not going to be together, it's only a matter of time before one of us meets someone else.
Ally: You think it's time for us to move on and date other people?
Austin: Maybe. Whatever happens, I just want you to be happy.

Ally
: I want you to be happy too.
Songs Featured
Cast
Main Cast
Guest Cast
Trivia
This is the only new episode of Austin & Ally to air in February 2014.
This is the third time Austin and Ally dance together; the first was in Rockers and Writers, and the second was in Club Owners & Quinceañeras.
When Ally and Brooke are called witches, Ally is supposed to look like the witch from Snow White and Brooke the Wicked Witch of the West from The Wizard of Oz.
Austin and Ally admit they still have feelings for each other by saying they would be jealous if they saw them with different people.
The 'Auslly Arc' continues in this episode (ninth part).
When Ross and Laura were dancing together at the end of the episode, their t-shirts were their favorite colors. Ross, yellow and Laura, red.
Ally wore the same shirt as she wore in the crossover of A&A and Jessie at the end.
This episode introduces Sofia Carson, who would later be known for her role in the DCOM Descendants.
Goofs
When Ally and Trish are looking at the cupcakes, if you look closely when the scene changes the cupcakes are different.
This is one of the few episodes to take place at Marino High.

Thus, since Homecoming is held in September/October, Ally might/should be dating Gavin by now.

Gallery
| | |
| --- | --- |
| | To view the Princesses & Prizes gallery, click here. |
Transcript
To view the Princesses & Prizes transcript, click here.
References