"
Merry Christmas guys!
"

— Austin to Ally, Trish and Dez
"Mix Ups & Mistletoes", originally known as "Santa Claus & Austin Flaws", is the 5th episode in Season 3 of Austin & Ally and the 50th episode overall. It first aired on December 1, 2013. It was the 10th episode to be filmed in Season 3. It was watched by 3.197 million viewers on the night of its premiere.[1]
Overview
Trish is organizing a Kids Club holiday party at which Austin and Ally will perform their original holiday song and distribute Austin Moon dolls, but a mix-up at the toy factory leads to a scramble. Meanwhile, Trish puts Dez and his arch nemesis, Chuck, through a competition to determine who will be a better Santa for the party.[2]
Episode Summary
Trish is organizing a holiday party at Shredder's Beach Club for a group of kids, in hopes of being promoted to 'Party Planner.' Austin and Ally plan to perform a special new song there, as well as distribute the well wanted Austin Moon Doll to all of the kids. Dez and Chuck compete in various tasks and activities to see who will be the party's Santa, while Trish manipulates them into doing her work for her. When they do get the dolls, the delivery man turns out to be a dwarf named Larry, who Dez insists secretly works for Santa Claus, despite his adamant denial. Once the team opens the box they find the dolls come with extra long hair. They end up cutting all of the doll's extra hair off at a doll salon. Chuck and Dez have two final competitions -- who can wrap presents the fastest, and who can lug their sack of presents to the beach club first. Trish and Ally, on their way over, discover an extra Austin Moon doll; they press the button and, instead of singing Double Take, it mimics a baby before 'peeing' on Ally.
Ally and Trish attempt to stop the dolls from being distributed, but it is too late by the time that they get there -- all the kids are stunned and disappointed to see that the Austin Moon doll is not as promised. Chuck and Dez try to cheer them up by acting as Santa; they get into a fight and wreck the party set. Hazel desperately urges Trish to undo the damage caused by the mangled incorrect dolls, after they have fixed the set and Austin and Ally perform "I Love Christmas," the children exclaim that the party wasn't a total bust.
As she wanted,
Trish
gets the promotion -- the only catch is that no extra money comes out of it, only longer working hours. The right dolls finally arrive just in time, and Larry has help from a fat white man in a beard. All four notice his resemblance to Santa Claus, but only Dez approaches the delivery team about it, and Larry continues to deny any ties to jolly ol' St. Nick, only to turn around an have a private conversation with his co-worker revealing that Dez almost found out that he was.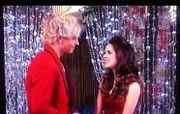 Songs Featured
Cast
Main Cast
Recurring Cast
Guest Cast
Trivia
This is the first Christmas episode of the show, since Big Dreams & Big Apples was more focused on New Years & It was Christmas only on the prologue.
Austin and Ally perform a new song called I Love Christmas.
This is Chuck's fifth appearance in the series.
This is Hazel's second appearance in the show.
Dez and Chuck compete against each other again to try to be the best Santa.
Trish is still working at Shredder's Beach Club, with Hazel as her boss.
Trish and Hazel mention when the pig flew and landed on Ally from the previous episode.
In previous episodes Ally has been seen dancing badly, but when she was performing "I Love Christmas" with Austin, she is seen dancing well, showing she may have learned how to dance.
On the Disney Channel website, the clip of the episode says that this show was originally called Santa Claus & Austin Flaws.[4]
This episode reveals Dez can play the saxophone.
This is so far Hazel's last appearance in season 3. It is unknown if she will appear in a future episode or in Season 4.
The episode was originally knows as Santa Claus & Austin Flaws
Goofs
In Family & Feuds, when Austin, Ally, Trish, DiDi, Dennis, and Donna play a trick on Dez and Chuck they are trying to break up the feud between the McCoys and Dez's family, it works, and Dez and Chuck become friends. However, in this episode, they have a 'Santa Showdown'.
After Austin tries to kiss Ally while they're singing I Love Christmas, he looks stunned/sad while she's singing- however, even though you can tell his mouth isn't moving, you can hear his voice harmonizing with her long before he runs over to her.
After the Austin Doll pees on Ally, there's no wet spot on her shirt.
When Dez and Chuck crash the set for the party, if you look closely to the sky it shook a little when a prop hit it.
Transcript
To view the Mix Ups & Mistletoes transcript, click here.
Gallery
| | |
| --- | --- |
| | To view the Mix Ups & Mistletoes gallery, click here. |
References