Fan Page

This article is just a fan page. It is a part of the Austin & Ally fanbase all based on information from the series or cast and crew.
Laini

Information
Cast Shipped
Status

Co-workers, best friends

Rivals
Laini (L/aura and R/aini) is the real-life pairing of Laura Marano and Raini Rodriguez. They seem to have a sister-sister relationship and best friends.
For the in-show pairing between Ally Dawson and Trish De la Rosa, the characters Laura and Raini portray, see Trally.
Relationship
Laura
and
Raini
are both close friends since they hang out a lot. They are the most seen together out of the entire cast and are very comfortable around each other. In an interview, Raini said that Laura is one of her actual best friends, and they keep in contact with each other,
even
when the show production is on hiatus.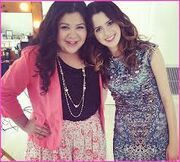 Other Names
Lauraini (Laur/a and R/aini)
Rainaura (Rain/i and L/aura)
Lini (L/aura and Ra/ini)
Launi (Lau/ra and Rai/ni)
Lani (La/ura and Rai/ni)
Raina (Rain/i and Laur/a)
Laini (La/ura and Ra/ini)
Rainia (Raini and Laur/a)
Miguez (M/arano and Rodr/iguez)
Rano (R/odriguez and Mar/ano)
Marena (Mar/ie and Al/ena)
Marana (Mara/no and Ale/na)
Arano (A/lena and Ma/rano)
Malena (Ma/rano and A/lena)
Madriguez (Ma/rano and Ro/driguez)
Maraini (Ma/rano and Raini)
Raura (Ra/ini and La/ura)  (Not to be confused with the pairing of Ross Lynch & Laura Marano, Raura).
Rainura (Rain/i and La/ura)
Maini (Ma/rano and R/aini)
Rodrano (Rod/riguez and Mar/ano)
Raina (Rain/i and Laur/a)
Maraz (Mara/no and Rodrigue/z)
Rodrino (Rodri/guez and Mara/no)
Madrino (Ma/ra/no and Ro/dri/guez)
Alerie (Ale/na and Ma/rie)
Similarities
They both have Twitter accounts.
They both have siblings in the acting business.
They both have brown hair.
They both have brown eyes.
They both have been in the industry since they were very young.
They both worked together on Austin & Ally.
They both cannot skate.
They both are friends with Ross Lynch and Calum Worthy.
Moments
Laura tweeted that she is really excited to hear Raini's song on Radio Disney. 
Raini thanked Laura in a reply.
Laura and Raini often tweet each other.
On August 9th, 2012, Laura used Raini's phone to tweet and answer questions.
They do interviews together a lot.
Laura revealed on Twitter that the pancake she flipped in myTAB & My Pet landed on Raini's face instead of the floor in front of her.
In the Charades Showdown, Raini and Laura were on one team.
They both threw a surprise skating party for their Austin & Ally co-star Ross Lynch.[1]
They both had an interview with Tiger Beat together.
Laura and Raini are always talking to each other, via phone.
In the live stream, Raini and Laura both said that Raura was the pairing name for them both.
Laura tweeted Raini on her birthday, congratulating her.
Laura and Raini both went to the Radio Disney music awards and both had an interview together [2]
They went shopping together sometime in 2015.[4]
Gallery
| | |
| --- | --- |
| | To view the Laini gallery, click here. |
References
Community content is available under
CC-BY-SA
unless otherwise noted.