Fan Page

This article is just a fan page. It is a part of the Austin & Ally fanbase all based on information from the series or cast and crew.
"
I was just given this amazing song, and it's the perfect way to open my show. (pause) But, I realized that there's only one person who should sing it. Ally, will you please come up here and sing your song?
"

Kally (K/ira and Ally) is the friendship pairing between Kira Starr and Ally Dawson. 
Other Names
Allira (All/y and K/ira)
Alira (Al/ly and K/ira)
Darr (Da/wson and Sta/rr)
Stawson (Sta/rr and Da/wson)
Starson (Star/r and Daw/son)
Kiry (Kir/a and All/y)
Killy (Ki/ra and A/lly)
Kirlly (Kir/a and A/lly)
Ara (A/lly and Ki/ra)
Alra (Al/ly and Ki/ra)
Ala (Al/ly and Kir/a)
Alla (All/y and Kira)
Kirly (Kir/a and Al/ly)
Dawstarr (Daw/son and Starr)
Kirally (Kira and A/lly)
Kally Moments
While everyone wanted to tell Kira how bad her breath was Ally didn't want to hurt her feelings (even though she wanted to tell her later on).
Ally was stuck in a hamster ball with Kira.
Kira cancelled her and Austin's date because she thought she was "supposedly" getting in the way of Austin and Ally's "romance".
Kira apologized to Ally for thinking she liked Austin.
Ally congratulated Austin and Kira on making it official that they were dating.
Kira thanked Ally for congratulating them.
Out of all the singers Kira could have picked to sing a song from, she chose Ally.
Ally reassured Kira that the drama between Austin, Kira, and Ally and the whole dating thing was not the reason she didn't want to give her song to Kira.

Ally tried to tell Jimmy that ruining Kira's demo was an accident.
When Ally gave Kira the song for Austin's sake, she decided to give it back to Ally and said that she would talk to her dad about giving Austin his record label back.
Ally and Kira hugged.
After Ally performs her song, Kira tells her that she was fantastic.
Ally says that maybe she can write a song for Kira one day and Kira thanks her for that.
Ally cheers Kira on after she said that she should get back to her concert.
Kira said that she was planning on having a surprise party for Ally and that she and Austin were trying to get Maroon 5 to play at her party.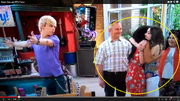 When Ally enters Sonic Boom, Kira runs to Ally and gives her a hug.
Ally says that they have a lot in common.
Kira asks Trish to set up some beach chairs for her and Ally.
They both wear the same swimsuit at the beach.
Kira books Ally a concert at the beach club.
Ally says that they were "twinsies" since they were wearing the same swimsuit.
They become best friends.
After Kira tells everyone that she had booked Ally a gig at the beach club, they grab hands and jump around.
Similarities
They are both friends with Austin, Trish and Dez.
They both have dated Austin.
They both have brown hair and brown eyes.
Both are singers.
They both have dads with their own companies.
In Beach Clubs & BFFs, they were wearing the same swimsuit.
Differences
Ally enjoys pickles, Kira doesn't.
Ally is dating Austin, Kira isn't.
Ally and Kira are signed with different record companies; Ally with Romone Records, Kira with Starr Records.
Gallery