"
I realized I still like Ally. And, I wanna get back together with her
"
"Hunks & Homecoming" (also known as "Ally's New Crush"; "Popstars & Parades" in the UK), is the 12th episode in Season 3 of Austin & Ally. This was the eleventh episode to be filmed in Season 3. It aired on June 22nd, 2014.[1] The episode earned 2.943 million views on its premiere night.[2]
Overview
When Ally's record producer pairs her with a new artist to record a duet, she is caught off-guard to learn he has a crush on her.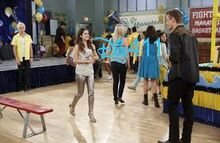 Episode Summary
Sparks fly when Ally is given a new partner, which makes Austin jealous. Now Ally needs to choose- will it be Austin and Ally, or Gavin and Ally? In the meantime, Trish tries to get Gavin his new client by convincing him to be his new manager and Dez and Chuck fight again, but this time, they have to battle which one's idea of the Manatees cheerleader's team float will be chosen.
As Gavin and Ally start to work on a new song for their duet, Austin starts to notice how well they're getting along and is almost sure that Gavin is "stealing" Ally away from him as a songwriter. Not being able to help his obvious jealousy, Austin convinces Trish to help him drive Ally and Gavin apart by saying that Ally will one day sign with Gavin's manager. However, their attempts are useless and in some ways, backfire on them.
Eventually, Austin decides to confront Ally, but makes her choose between him and Gavin, leaving Ally upset with Austin. Austin realizes that he still likes Ally and that he wants to get back together with her. When he goes to the practice room to first apologize and ask if they want to get back together however, he is interrupted by Gavin. Austin decides that he can leave talking to Ally at a later time and leaves. Though, when Austin leaves, Gavin asks Ally two things. The first being if they would like to perform their duet together, to which they will at the homecoming pep rally. The second being Gavin asking Ally to go on a date with him. Ally is caught off-guard by this and is unsure of an answer.
During the pep rally, Ally and Gavin perform their duet, Me and You, to which the audience enjoys. Afterwards, Austin talks to Ally about how great she and Gavin were. However, as the two both have things to share, Ally is first to say that she won't be working with Gavin anymore as she has decided to go out with him. Austin is shown to be upset by this and knows that he can no longer ask Ally to get back together with him, leaving him heartbroken.
In the meantime, prior to the pep rally, Dez and Chuck have their different ideas about the homecoming pep rally float. Dez's idea being about their school's mascot - the manatee and Chuck's idea being about football as it is football season. As always, the two argue about which is better and end up sabotaging each other's floats, which turns in a failure to both of them for Kimmy. The two then realize that they have to work together on their ideas and compromise, which allows them to come up with an even better one. With both the manatee and football ideas combined, their float shows a manatee on a football field that can throw a football through a field goal, to Kimmy's satisfaction. Though, the only problem left was getting the float out of the gym.
Songs Featured
Cast
Main Cast
Guest Cast
Memorable Quotes
Dez: While you do that, I'll practice my parade wave. (Waves hand)

Trish: (Waves back at him)
Dez: Oh, you're practicing yours, too?

Trish:
No, I just want you to leave. Goodbye!
Austin: I got one. You can tune a piano, but you can't tunafish.


Trish:
Come on, Austin. Let's get out of here. I think their dorkiness is rubbing off on you.
Ally: ♫ Never known anyone like you before. ♫

Gavin: ♫ Someone who can make me smile when I've fallen down on the floor. ♫
Austin: (sits between Ally and Gavin) Sorry to interrupt, but I really need your help, Ally.
Ally: Can't it wait?

Austin:
No, this is really important. I'm trying to finish a melody to a song we were supposed to write together. Should it go
(plays piano keys)
Bum bum bum bum. Or, bum bum bum boom.
Trivia
The writers tweeted the alternate title of this episode on Twitter.[1]
This episode is Gavin Young (Cameron Jebo)'s first appearance on the show.
This is the first episode that aired after the series was renewed for a fourth season.
Ally starts dating Gavin in this episode.
This is the second time Austin gets jealous of Ally's new companion. The first was in Campers & Complications.
The episode was originally known as "Pop Star & Parades."[5]In the UK, this episode is called with that name.
Austin sings a part of Better Together in this episode.
Austin admitted to still having feelings for Ally and wanted to get back together with her. Unfortunately, he had lost her to Gavin.
This episode might have been a spin-off of Princesses & Prizes, because, in that episode, Austin said he would be jealous of Ally hanging out with or dating another guy, and Austin was very jealous of Ally spending time/dating Gavin Young.
Trish helped Austin steal Ally back from Gavin, unfortunately, it didn't work.
The 'Auslly Arc' continues in this episode (tenth part).
Trish's hair changed in this episode, being straighter.
The "I Didn't Do It" episode "Falling for... Who?" ending, was similar to this episode, because Logan finally realized his feelings for Jasmine like Austin realized he still had feelings for Ally and Logan (Austin) tried to ask Jasmine (Ally) out, but it was too late, because Jasmine (Ally) had started dating another guy, leaving Logan (Austin) heartbroken. The only differences between the episodes were that Logan didn't get jealous of Jasmine and Owen dancing, he just realized and admitted his feelings for her, instantly fell in love with her and tried to ask her out. Also, Logan cried over Jasmine and was left completely heartbroken, but Austin didn't cry over Ally and was only a little heartbroken, unlike Logan who suffered from a much bigger heartbreak over Jasmine.
Transcript
To view the Hunks & Homecoming transcript, click here.
Gallery
| | |
| --- | --- |
| | To view the Hunks & Homecoming gallery, click here. |
References