Demonica Dixon

Information
Full Name

Demonica Dixon

Gender

Female

Resides in

Miami, Florida

Occupation

Manager

Eye Color

Brown

Hair Color

Brown

Production
First Episode
Last Episode
Portrayed By

Lisa Arch
Demonica Dixon is a manager who currently only appeared in Managers & Meatballs.She manages eight of the top singers including Rihanna. She tried to represent Austin, and had Trish, Ally and Dez fired. She is the main antagonist of Managers & Meatballs.
History
She first walks into Sonic Boom during Team Austin's meeting. She states that she manages seven of the top singers and then gets a call saying that Rihanna will sign with her. She argues with Trish, and tries to manipulate Austin into joining her with a fancy lunch and background music. Later, when Trish books Austin at the Miami Jam-A-Thon, she has her assistant pose as Trish and change the time so that Austin can't perform and Trish looks like she messed up. This causes Austin to fire Trish and sign with Demonica.
At the next Team Austin meeting, she gets an idea from Dez to hire Spike Stevens to shoot Austin's next video which puts Dez out of the job. Later, she tells Ally that she doesn't like her song and that she is hiring a team of professionals to write Austin's songs, putting Ally out of the job, even though Demonica never really listened to Ally's song.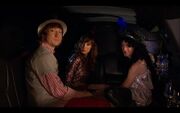 Austin then dreams that he finally got the chance to accomplish his dream, preforming on Times Square on New Year's Eve. After his show, he finds that his friends have been replaced, and that startles him awake, realizing that Demonica is bad. At the press conference, Team Austin have their revenge by humiliating Demonica with a meatball launcher (tennis ball launcher with meatballs in it). She is humiliated in front of the press, leaving a victory for Team Austin.
Trivia
She often uses different types of exits.
When she wants something she raises her voice.
She manages eight of the top singers, including Rihanna.
Trish calls her a "finger-snapping, blue tooth-wearing, puppy-hating thief."
Trish has called her a client stealer.
She often uses visual aids.
When she wants something, she usually just says one or two words, then snaps, and people bring it to her.
Seeing as she is an antagonist, "Demonic" is in the first part of her name.
She has so far only appeared in Managers & Meatballs.
It's confirmed that she never appears again in the show.
She makes singers forget about their recent business partners.
She attempted to be Austin Moon's manager.
In the show, she is the manager of Rihanna.
She found replacements for Ally,Trish and Dez.
She might have lied about managing seven of the top singers to get Austin to hire her.
Since she only appeared in Managers & Meatballs, she may never appear again after Team Austin humiliated her by using a tennis ball launcher to hurl meatballs at Demonica Dixon.
It is unknown if Demonica hates puppies.
She may be a villain, but she may be also lazy. Without listening to Ally's song, Demonica did something horrible to Ally Dawson's song.
This is Trish's first rival, excluding Face Puncher from Kangaroos & Chaos.