Deborah Ann "Debby" Ryan (born May 13, 1993) is an American actress and singer. Debby is best known for her role as Bailey Pickett in the Disney Channel Original Series "The Suite Life on Deck". The Suite Life on Deck established Ryan as a teen idol and became the most-watched children's show on television since its premiere in October 2008. Debby is also known for her lead role as Jessie Prescott in the Disney Channel Original series "JESSIE". Ryan started acting in professional theaters at the age of seven; in 2007 she appeared in the Barney & Friends straight-to-DVD film Barney: Let's Go to the Firehouse and then was discovered in a nationwide search by Disney. She is also known for appearing in the 2008 feature film The Longshots as Edith.
Early life
Ryan was born in Huntsville, Alabama on May 13, 1993. Her father was in the military, so she often moved to different places in Europe. She lived in Germany until she was 10 and can speak German and English. She started performing in professional theaters at the age of 7 on an American base in Germany. She found she loved acting.
She returned to the United States at the age of 10 in 2003 and was raised in Texas. She dreamed of acting full-time. In a 2009 People Magazine interview, she described herself as a "nerd" in school. Ryan was bullied in middle school for being a mascot and being in the school's chess club.
Ryan has an older brother, Chase (who is older than her by approximately two years). He is a guitarist and vocalist. In a March 2009 interview, Ryan said that her older brother is one of her role models.
Filmography
Film
Year
Title
Role
Notes
2007
Barney: Let's Go to the Firehouse
Teenager
Direct-to-video film
2008
The Longshots
Edith
Metro–Goldwyn–Mayer film
2010
What If...
Kimberly "Kim" Walker
2010
16 Wishes
Abigail "Abby" Jensen
Lead role, Disney Channel Original Movie
2011
The Suite Life Movie
Bailey Pickett
Lead Role, Disney Channel Original Movie
2012
Radio Rebel
Tara Adams
Lead Role, Disney Channel Original Movie
2012
Secret of the Wings
Spike
Voice only
2013
Kristin's Christmas Past
Haddie
2017
Rip Tide
Cora
Lead role
Television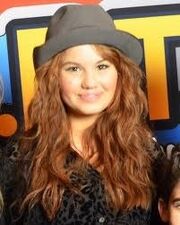 Trivia
Debby says that she is more like Jessie than Bailey, from the Suite Life On Deck.
Her natural hair color is a dusty brown color.
Even though she adores watching her castmates grow, she misses talking and working with people her own age.
Debby's weirdest dream was when she was nine, and Barbie started chasing her through the woods. In the dream, Debby ran into a Walmart and started using their mattresses to defend herself from Barbie!
Debby says that we should expect to meet different people and visit different places on Jessie.
Debby said with an interview with TG Philippines, "I used to wear my brothers' hand-me-downs 'cause I thought it made me look cool."
She dyed her hair for the role of Jessie Prescott.
Gallery
| | |
| --- | --- |
| | To view the Debby Ryan gallery, click here. |