Fan Page

This article is just a fan page. It is a part of the Austin & Ally fanbase all based on information from the series or cast and crew.

Dally (Da/llas and A/lly) is the romantic/friendship pairing of Ally Dawson and Dallas. Ally first confirmed she had a crush on Dallas in Secrets & Songbooks. They never dated in the series. Ally has a former crush on Dallas ever since she developed feelings for Austin in Girlfriends & Girl Friends, but it is unknown if Dallas still likes Ally or not.
Other Names
Allas (A/lly and Da/llas)
Alls (All/y and Dalla/s)
Dall (D/allas and All/y)
Alldallas (All/y and Dallas)
Laslly (Dal/las and A/lly)
Dallally (Dall/as and Ally)
Dallyson (Dal/as and Al/lyson)
Dallasly (Dallas and Al/ly)
Allyas (Ally and Dall/as)
Dallallys (Dalla/s and Ally)
Aallas (A/lly and Da/llas)
Moments
Ally was nervous about asking Dallas to dance.
When Dallas rejects Ally's invitation to dance, Ally gets upset.
Dallas comes back at the end of the episode to apologize to Ally about saying no.

Ally and Dallas dance badly together in the end.
Ally asks Dallas to dance.
Ally kept looking at Dallas when Austin was about to perform.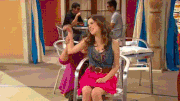 Ally mows Dallas's lawn.
Ally accidentally tells Dallas he should work at Sonic Boom.
Dallas starts working at Sonic Boom just to get closer to Ally.
Ally has a hard time firing Dallas.
Dallas told Ally that he loved working at Sonic Boom because he got to see her every day.
Ally thought it was cute when Dallas said Libary instead of Library, even though it's one of her pet peeves.
They admitted they both get nervous around each other.
Dally Quotes
Dallas: Hey Ally?
Ally: Oh, hey.
Dallas: You're a really great dancer. I couldn't have never been able to pull that off. That's why I said no to you. I mean, I wanted to dance with you. I just didn't know how.
Ally: Wait a minute. You can't dance? That is amazing!
Dallas: It is?

Ally:
Yeah, I can't dance either. Look! *dances badly*
Ally: Staring at Dallas? What?! No! That's ridiculous.
Dallas: I've been wanting to come to the store to say hi. I just-I haven't had time. After work, I always have chores. Like today, I have to mow my lawn. It's the worst.
Ally: I can mow your lawn for you. ...Why would I say that?
Dallas: Really? You'd mow my lawn for me?
Ally: Yup. That's what I heard myself say.

Dallas:
Thanks!
Ally: Dallas, I am so sorry about the whole firing you, marching band thing.
Dallas: It's okay. I probably deserved it. I wasn't the best employee. I just-I get so nervous around you sometimes.
Ally: You get nervous around me? Around nervous I get you! ...See?
Dallas: I probably should get going. I have to work at the libary.

Ally:
Eh...
Similarities
They both admitted that they get nervous around each other.
Both of them can't dance.
They both had worked in the mall, Dallas later left to work at the library.
Both of them have brown hair and brown eyes.
In Noah Centineo's Interview, the hostess of OnTheSpotInterviews, commented that she thought Dallas and Ally had some chemistry, and Noah agreed with her.