Chuck McCoy is a recurring character in Austin & Ally and is best known as Dez's arch enemy. Chuck first appeared in the episode Freaky Friday & Fan Fiction and since then has shown up on the show various times following. Chuck is flirtatious but also sly and clever. He is known to constantly bicker with Dez and be in constant competition with him in everything he does. His last appearance in the show is in Duets & Destiny.
Chuck is portrayed by John Paul Green.
Physical Appearance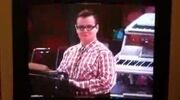 Chuck is a young man that wears cowboy-inspired clothes. He wears black, square glasses.
It is revealed near the end of the episode Freaky Friends & Fan Fiction that his original style of clothes was wacky clothing- exactly like the type of outfits that Dez wears on a daily basis.
Appearances
Season 2
Season 3
Season 4
Character History
He is the main antagonist of the episode. He is Dez's rival. He steals the typewriter after Dez accidentally reveals the typewriter's abilities to him, and he uses the typewriter against the gang in many ways (see Freaky Friends & Fan Fiction to see what he did to Team Austin). He offers to stop and give back the typewriter if Dez apologizes for stealing his original style of clothes, but after Dez apologizes for never apologizing, Chuck leaves, ready to use what Dez inadvertently told him against the gang. And he does- he turns Ally into Abraham Lincoln when she is giving her speech, and he turns Austin's hands into hooves as he starts taking his driving test. After the car crashes into Sonic Boom, he and Dez battle for possession of the typewriter, but after Dez wins, Chuck is shrunk down. At the end of the episode, two things are revealed: 1) His girlfriend is Kimmy, despite him having a crush on Trish, and 2) He has entered the cake baking contest and is determined to beat Dez.
This episode is his second appearance of the series.  In this episode, Chuck competes against Dez in a chili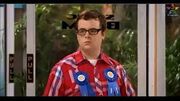 making contest. It is possible that Chuck will have sabotaged the salsa when it was taken by customers, where Austin lost
Ally
's valuable necklace.
This episode is his third appearance of the series. In this episode, he and Dez compete to get a spot on the cheerleading squad. They do things such as; Who can cheer on the crowd the loudest, doing various tricks, etc. In the end, Chuck and Dez gets the spot, but Chuck ends up being shot out of a cannon.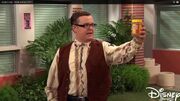 This episode is his fourth appearance of the series. When Dez tries to win a scooter from FM 109 as a birthday present for his sister Didi's 16th birthday, Chuck arrives to compete with him and wins it for himself. During the birthday party, Didi reveals that she has a boyfriend, who turns out to be none other than Chuck himself. His surname is revealed to be "McCoy" as of this episode. He and Dez become friends in this episode.
This episode is his fifth appearance of the series. When Dez wants the job of being Santa, Chuck competes to be a better one.
This Episode Is His Sixth Appearance Of The Series. Chuck and Dez try to make a successful homecoming float for the cheer squad. All goes wrong, and they try to redeem themselves by giving Kimmy the idea for next year's float. It ends up disastrous.
In this episode, Trish asked Chuck to prom cause she can't go with Jace, and he said yes. It was revealed that Chuck has an on-off again relationship with Sun Hee. Chuck and Trish go to prom together.
This episode is his eighth appearance of the series. At the beginning of the episode, he's seen with Trish, and later, he gets back together with Sunn Hee.
This episode is his ninth, and final appearance of the series. Team Austin and Ally suspected he stole Ally's songbook. They blame him since he's always out to get them.
Trivia
Relationships
Relationships with Other Characters
(Wife)
Chuck had a crush on Trish ever since Freaky Friends & Fan Fiction, even though Chuck had a girlfriend at the end of that episode it's possible that he still likes her. In the series finale, it's revealed that they got married and had a daughter together.
(Friend)
Chuck was Dez's enemy from Freaky Friday & Fan Fiction toward the middle of Family & Feuds. They have been competing with each other a lot. In the end, they ended their feud and became friends.
(ex-girlfriend)
In Family & Feuds, it was revealed that Chuck was Didi's new boyfriend and they had been dating since then. But he broke up with her as revealed in Proms & Promises to be with Sun Hee.
(On and Off relationship) 
It was revealed in Proms & Promises that Chuck broke up with Didi to be with Sun Hee.
Quotes
Do you know the skills it would take to break into a second -story window, steal a typewriter, then descend a 20-feet ladder one-handed while holding said typewriter? While, I possess such skills, I didn't do it.
Cowboy wasn't my first choice. Wacky pants and silly shirts used to be my thing.
Gallery
| | |
| --- | --- |
| | To view the Chuck McCoy gallery, click here. |
Community content is available under
CC-BY-SA
unless otherwise noted.