"
Guess who's gonna be a high school graduate!
"
"Cap and Gown & Can't be Found" is the 17th episode in Season 4 of Austin & Ally. It was the 16th episode filmed of the season. It aired on November 22nd, 2015. The premiere was watched by 1.73 million views.
Overview
When a missing library book threatens to keep Ally from graduating, Austin tries to find it. Meanwhile, Trish fakes some memorable moments in an attempt to get more photos in the yearbook.[2]
Episode Summary
The episode opens with Dez and Trish in their gown in Marino High when Austin walks in with his cap and gown. He even shows off to a teacher. Trish thinks the cap was boring so she shows the cap decked out with cheetah prints and a touch of bling while Dez put a micro pod on top of his cap since he can't really film everything in the ceremony. Then Ally walks in without a cap and gown, feeling ridiculous for not getting it because she had an overdue library book that she never returned in freshman year. Dez did a loser cam of her but she blocked the micro pod.
At the next scene, we see Trish in the classroom, sleeping above three books with Dez by her side. Dez yells to wake her up. Being awake, she asks if class ended. Dez answered that it ended three hours ago. Then he asked her if she wants to look at the yearbook layout. Chuck walks in with his catchphrase "Not so fast, Red". Trish grabs the tablet and sees it's about everyone else with her in sleeping, so she unites Chuck and Dez to help her get more moments by taking fake pictures.
At the A&A Music Factory,Austin was on stage when Ally walks in with a book.Austin walks down and asked what was the book that she was holding and she answered that it was a planner that she had in freshman year.
Songs Featured
Cast
Main Cast
Guest cast
Trivia
The cast had the table read of this episode on March 16, 2015.
This episode began filming on March 19, 2015.
The writers revealed on Twitter that one of their favourite songs on the show was in this episode
The gang graduate high school in this episode.
Austin performs at the graduation
Trish and Dez hold hands
This is most likely the last episode that will take place at Marino High because the gang graduates in this episode.
The plot where Ally can't find her library book is similar to the Liv & Maddie episode "Ask Her More-A-Rooney", which involved a missing library book, and also aired on the same night.
When Austin is singing & and dancing he can be seen doing the Whip from "Watch Me" by Silento
Even though the gang graduates in this episode, only the fake graduation is shown, not the real one.
At the first scene when Austin Moon says to the teacher that pigs can't fly he is referring to Beach Clubs & BFFs when he said to Ally that if a pig can fly Austin will receive an A in algebra.
Transcript
TBA
Gallery
| | |
| --- | --- |
| | To view the Cap and Gown & Can't Be Found gallery, click here. |
References
↑ Switched at Birth's D.W. Moffett directs Austin & Ally; See the Cute Cast Pics (Just Jared Jr.; March 21, 2015)
↑ http://www.disneyabcpress.com/disneychannel/shows/austin-ally/episodes/cap-and-gown-cant-be-found/
Videos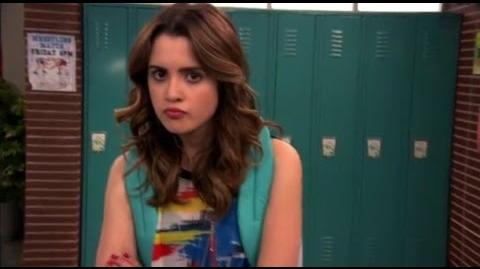 Community content is available under
CC-BY-SA
unless otherwise noted.