"
I gotta make like a tree and butterfly.
"

— Jackson Lowe
"Beach Bums & Bling" is the twenty second episode in Season 2 of Austin & Ally and the 41st episode overall. It first aired on August 11th, 2013. The episode was the fifteenth episode filmed of season 2. It earned 3.080 million viewers on the night of its premiere. [1]
Overview
Austin helps out one of his favorite old rock and roll heroes to become famous again.
Episode Summary
When Austin gets his biggest check from Starr Records, he decides to share his wealth. He buys Dez a decked out ride, Trish her own kiosk and Ally a pair of crystal slippers from her favorite movie. However, he soon meets his childhood idol and favorite rockstar, Jackson Lowe, at the beach and, after seeing how he has become a bit of a beach bum, decides to return Jackson to the spotlight. He and Dez spend the day restyling Jackson—they go through a hardcore rockstar outfit, an Austin-esque outfit and a Dez-esque outfit—before deciding on an outfit that all of them agree on.
Trish books him and Jackson a gig at a night club; after reaching the club, they discover that Jackson has bolted and taken Dez's cart with him too. They find him and convince him to perform with Austin. They perform "I Got That Rock N' Roll." When Dez starts taking pictures, Jackson gets really angry and trashes the entire place. He then reveals that he was not truly a beach bum—he had saved up his money from his rock star days to buy nice items—but did not want to disappoint Austin and then left.
Meanwhile, Trish hires an employee for her kiosk—Bonnie—and discovers that Bonnie is like Trish when it comes to working: they don't work. They decide to be friends.
Memorable Quotes
Ally
Oh. They're beautiful. Are these made of crystal?
Austin
Yep! Just like Princess Crystal Shoes wore in your favorite movie, "Princess Crystal Shoes".
Ally
Thanks, Austin. I love them. Oh.
Austin
Uh, I don't think you're supposed to wear them, they're just for show.
Trish
You can barely walk in them.
Ally
But they're so pretty.
Dez

I've got the same ones but in high-tops.
Ally
Thanks for carrying me, Austin.
Austin
I wouldn't have to if you'd just take off those shoes.
Ally

But they're so pretty.
Ally
Hi, I'm Ally. It's nice to meet you.
Austin
That's how you greet a legendary rockstar?
Ally

Uh, sorry. It's
very
nice to meet you.
Austin
Great news, Jackson! I'm going to help you become famous again.
Jackson

Again? I'm still famous.
[stands up]
Hey everybody, look at me! I'm Jackson Lowe!
[no one responds]
When do we get started?
Ally
I better get back to work. Austin?
Austin

*picks up Ally piggy back style*
Seriously, you gotta take those shoes back.
Trish
Bonnie?!
Bonnie
Oh, hey, Trish.
Trish
What are you doing here?
Bonnie
Mm, I'm on my break.
Trish
Break? You just started an hour ago.
Ally
Hmm, remind you of anybody?
Trish
What kind of employee pulls this kind of stunt?
Ally
I can think of one.
Trish
You're gonna work extra late tonight to make up for lost time.
Bonnie
Oh, I can't. I was gonna watch TV tonight.
Songs Featured
Cast
Main Cast
Guest Cast
Trivia
This episode aired in Latin America on July 29; while in the US aired on August 11.
In this episode, we see Laura's toenails are painted purple.
In the window of Everything's Beachy in the scene where Austin gives money unknowingly to Jackson, you can see a Visa/Mastercard sticker sign.
"Beach Bums & Bling" was actually supposed to broadcast before "Tracks & Troubles", but for an unknown reason, Disney decided to air it out of order.
This is the second time Ally's feet are hurt, the first being "Spas & Spices".
This episode aired on November 6th in the UK.
In the UK this episode aired before "Sports & Sprains" for an unknown reason.
When Jackson tried the different outfits, an unknown and unaccredited song was featured.
Dwayne Wade was mentioned in this episode by Austin. Dwayne was then seen in "Fanatics & Favors".
It is revealed that Ally's favorite movie is Princess Crystal Shoes.
 Goofs
When Trish first opened Curl's Day Off, she had straightened some of her hair. However, in the next scene when she is back in Sonic Boom, her hair is all curly again.
Ally isn't able to walk in her new heels, but in the next scene where they bring Jackson Lowe, she's running behind them and walking fine.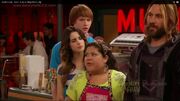 Ally said she had just written a new song, but she obviously had already written it, because she sang a part of it in "Tracks & Troubles".
Transcript
To view the Beach Bums & Bling transcript, click here.
Gallery
| | |
| --- | --- |
| | To view the Beach Bums & Bling gallery, click here. |
References