Austin & Ally Music Factory



Institution

Music School

Type

Public

Location

No. of known workers

4

No. of known rooms

4+
The Austin & Ally Music Factory (sign titled A&A Music Factory) is the new music school located in the very same building where Sonic Boom once existed at Miami Beach, being replaced in Season 4. It makes its first appearance in "Grand Openings & Great Expectations."
History
After Austin loses his career and Sonic Boom's lessons start increasing due to Ally's fame, Ally comes up with the idea of opening a music factory where they can teach kids music. With Lester's permission, Team Austin & Ally remodel Sonic Boom.
The Music Factory is first seen in Grand Openings & Great Expectations. After a reporter shows disbelief in Austin and Ally's ability to teach children, they accidentally agree to make a band out of four kids who have never played instruments before (Max, Herman, Lily, and Dylan) within a week's time. Despite Max's
disinterest in music, Herman's complete lack of technique, Lily's immature personality, and Dylan's strange actions, the group successfully teach the kids how to play Na Na Na (The Summer Song) and get them interested in music, and the Music Factory quickly becomes famous.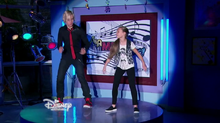 In Homework & Hidden Talents, Shelby, a new student, is signed up by her older sister to learn violin. Despite her apparent lack of musical talent, Ally makes a bet with Austin that she will be able to discover what Shelby is good at before Friends & Family Night. After many tries, she discovers that Shelby is an excellent dancer, and Austin and Shelby perform to Finally Me at the end of the episode.
In Duos & Deception, Billie and Bobbie from The Billie and Bobbie Show visit the Music Factory and perform for the kids. However, the two become jealous of Austin and Ally and plan to sabotage their mall inspection. Although the inspector, Mr. Schxlumbraugh, is horrified by the mess Billie and Bobbie make, the gang manages to
convince him to give them a second chance. Although the group is almost broken up by Billie and Bobbie's antics, Lily reveals their master plan to the gang, and Billie and Bobbie apologize at the end.
In Karaoke & Kalamity, the factory gets a new student named Ridley, who's interested in singing. However, Ridley has stage fright (as well as a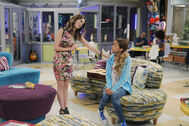 fear of suits, yams, flies flying into her mouth, and many other strange things). In order to help her get over her fear, Ally signs her up to perform at karaoke night. Although it goes poorly, Jimmy Starr becomes interested in Ridley, and Ally promises to help her get over her fear, although it may take some time.
In Mini-Me's & Muffin Baskets, the first-ever Music Factory Showcase is coming up, and the gang is preparing their students. When they hear that Jimmy Starr is planning on attending, Ally sees it as a chance to get Ridley signed, which could get the group back on Jimmy's good side and eventually lead to Austin getting signed again. The factory also gains a new student, Sadie Silver, but despite Ally's best efforts, she is completely uninterested in all forms of music. Trish realizes that Sadie is a lot like her and decides to teach her how to be a manager- however, the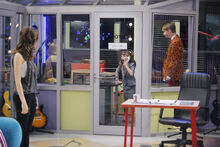 lessons go too well, and Sadie takes over the dance studio as her office and, after being kicked out, steals the showcase and moves it to the karaoke place. However, the guests are unimpressed with Sadie's showcase, and the gang saves it. Ridley performs Steal Your Heart and successfully impresses Jimmy Starr, who agrees to sign both her and Austin. Austin then gets to work writing a new comeback song in the factory's recording booth.
Austin and Ally use the dance studio to teach Ally how to dance in Dancers & Ditzes.
Known rooms and areas 
Known Students
Several other unknown students have been seen, including two as part of The Music Factory Band.
Staff
Known Lessons
Instrument lessons
Singing/Rapping
Management
Dancing
Directing
Known Events
Appearances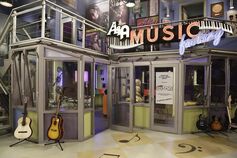 Trivia
The full name is "Austin & Ally Music Factory".
The logo features the two A's seen in the logo of the show and the sign reading "MUSIC" from Sonic Boom.
There's still the "instrument tower" which was in Sonic Boom.
The gang mentioned every activity (written onto) in Mattress Stores & Music Factories, but they're probably starting practicing them progressively in the episodes.
The logo is full since Homework & Hidden Talents since in the two previous episodes there was only the "MUSIC" sign.
There's a simulation stage which makes you perform in every place on earth and out of the earth by special glasses and a screen green (chroma-key). 
In Seniors & Señors, the school was used by Trish, that put names in Spanish on furniture, to help Austin to pass the test. 
There's also a snack machine (but it's shown only in Duos & Deception so far).  
The "roles" for the cleaning are:
In Mini-Me's & Muffin Baskets, Sadie, the apprentice manager, transformed the dance studio in her office, but then it had been re-transformed in the dance studio.
Their first showcase was at Club-a-Dub-Dub because it had been messed up by Sadie.
At the showcase, one of the students, Ridley, has been signed by the Starr Records (and Austin has been re-hired).
It's shown every episode as of Grand Openings & Great Expectations but some episodes have no mention of the students or the school. For example: Senors and Seinors, Dancers & Ditzes, Mysteries & Meddling Kids, Wedding Bells & Wacky Birds, and Comebacks & Crystal Balls all have no mention of the students or school. However, in Wedding Bells & Wacky Birds, there was a short mention of the factory at Marino High when Trish was talking about the cake layers.
The Factory originally had a polo shirt uniform. Unfortunately, the producer decided not to include it. A picture can be seen here
Gallery
| | |
| --- | --- |
| | To view the Austin & Ally Music Factory gallery, click here. |