'Austin & Ally' Profile: Ally Dawson
| | |
| --- | --- |
| | This page was once a Featured Article! |
"
Don't touch my book!
"

— Ally's catchphrase
Allyson "Ally" Edgar Moon[3] (née Dawson) is one of the protagonists of Austin & Ally. She is an aspiring singer/songwriter who used to have severe stage fright. She wrote the hit song, Double Take, which Austin Moon accidentally stole and performed in the episode Rockers & Writers, which made him famous.
Ally was furious, but then she realized that Austin made a mistake. After that, Ally forgives him and decides to give him a second chance so they become partners. Ally is best friends with Trish, Austin, and also Dez. Her parents are Lester and Penny, who are divorced. Her father owns Sonic Boom, the music store which is shown throughout the first two seasons.
She has always had a passion for music and feels that there's no better way to express what you're feeling. Over the two seasons, she becomes more confident and in the episode Chapters & Choices, she conquers her stage fright and sings with Austin. She is the wife to Austin Moon as well as the mother to Ava and Alex Moon.
Ally is portrayed by Laura Marano. 
Personality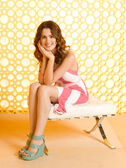 Ally is a kind, smart and talented girl. Ally is shown to be awkward, optimistic, compassionate, romantic, patient and very friendly. In the first season, she's introduced as a shy, dorky girl with incredible talent, but no confidence to push her enough to show it. Her hobbies include cloud watching, practicing calligraphy, basket weaving and watching old historical movies.
Still, she has a fire in her, seeing as she displays traits of perfectionism and has a competitive nature. As Season 2 came, she's shown to be more confident with herself, soon shedding her stage fright in Chapters & Choices and becoming more comfortable on stage and performing. She's grown to be more confident, stylish, self-assured and opinionated. She refuses to let emotions get the better of her and has a more on-task nature. In Season 3, she becomes even more confident and mature at the same time.
Ally learns to stand up for herself and never give up, facing all the problems. She's a sweet girl and always tries her best to not hurt anyone's feelings. She always tries her best at everything and she never quits what she starts, even when she is scared or frightened.
Biography
Background
Ally Dawson was born to Lester and Penny Dawson. Sometime before or during her early teenage years, Ally's parents divorced. Ally began to live with her father in Miami while her mother traveled for her job. Ally has always had serious stage fright. As revealed in Filmmaking & Fear Breaking, Ally developed this fear when she auditioned for the Music University of New York (M.U.N.Y). She was very nervous about the audition. When it was her turn, the man auditioning the kids began to give her more nerves. Ally began to hallucinate and ended up completely failing the audition. From there on, Ally has been scared of public humiliation. In Chapters & Choices, Ally's fear is broken.
Ally also is shown in the series to have been a very musically gifted girl growing. When she was only in kindergarten, she wrote a song, The Butterfly Song (shown in Bloggers & Butterflies). Ally is also shown to have been a very good girl who always follows the rules.
History
References
Community content is available under
CC-BY-SA
unless otherwise noted.